On 9 December, Book Creator founder Dan Amos participated in a live webinar, hosted by EdTechTeacher.
EdTechTeacher webinar 9 December 2014
---
The webinar was hosted by
Beth Holland
and
Sabba Quidwai
from EdTechTeacher, along with our very own Dan Amos, plus 
Nik Chatzopoulos
(4th Grade Teacher) and
Elizabeth Glassman
(High School Biology Teacher).
You can view the full webinar, get the slides and view the full chat transcript at edtechteacher.org/14winter2.
Introduction and future plans for Book Creator
At 4:01 Dan gives an introduction to Book Creator and a quick demonstration of how the book works. Dan also showed Jon Smith's recent Book Creator collaboration project to create a poetry book ('The World is My Audience') and Meg Wilson's Global iBook collaboration.
How to combine books in Book Creator
Dan also talked about how we're widening our portfolio to include a Windows version of Book Creator (in development as we speak) and we're also looking at a version for Google Chromebooks.
Our flagship iPad version will not be neglected though. We're thinking about how we can introduce some "scaffolding" to allow students to create more beautiful books (without detracting from the 'blank canvas' that makes Book Creator such an open-ended tool), and Dan also answered a question about why we had to postpone work on integrating widgets into Book Creator for iPad. Hopefully adding widgets is something we can resurrect with future updates to Apple's iBooks app.
Sharing collaborative projects and ideas
For the remainder of the webinar, we had Nik Chatzopolous sharing on AppSmashing and his Solar System project (created in iBooks Author); and Sabba Quidwai talked about projects she had been involved in where integrating writing into the curriculum was an important part of student learning, and creating iBooks allowed them to learn for themselves rather than be dictated to.
Sabba also talked about a 'Flipped Professional Development' course she had put together using iBooks Author to 'gamify' the way teachers learn how to use apps.
Book Creator as a collaborative revision tool
Elizabeth Glassman had some fantastic nuggets of wisdom to share from her two years of using Book Creator to help students revise for mid-terms.
Elizabeth has her class create a book collaboratively in order to provide one central location for all the content they have learned that semester. Each student has to answer one question using Book Creator. The pages are then submitted and combined into one book by Elizabeth.
These are the tips Elizabeth shared during the webinar:
Emphasise the fact that the book they create will be published – this motivates students and encourages them to take more ownership of the finished product (it's no longer just "notes in an exercise book").
Allow kids time in-class to work on the book.
Brainstorm with paper and pencil first.
Set all books to the same page layout (otherwise they cannot be combined in Book Creator).
Get students to title the book and make sure they know which number they are. When students title books numerically, it saves a lot of time for the teacher when they come to combine all the books.
Get students to submit the books via Google Drive (the app preserves all the titles of the books).
When sharing publicly, share an ePub and a PDF version to make sure everyone can access the finished book.
Collaborative opportunity: 'What Does AWESOME Look Like?'
Beth Holland finished up the webinar by introducing a fantastic project from the EdTechTeacher team: to create a learning archive.
From previous iPad Summits that they've hosted, they often hear teachers say "I wish there was one source of teacher's activities that we could refer to".
So the EdTeachTeacher team decided they will be the ones to create this central resource: 'What does awesome look like? A teacher activity book for iPads in the classroom'.
But it wouldn't be as useful if they created the book themselves, which is why they are asking for people to contribute.
They have created a Book Creator template which you can download to your iPad or Android tablet, submit the details and send to them to collate into one learning archive.
Get involved in this project at ettipad.org/awesome. Submission deadline: 8 January 2015.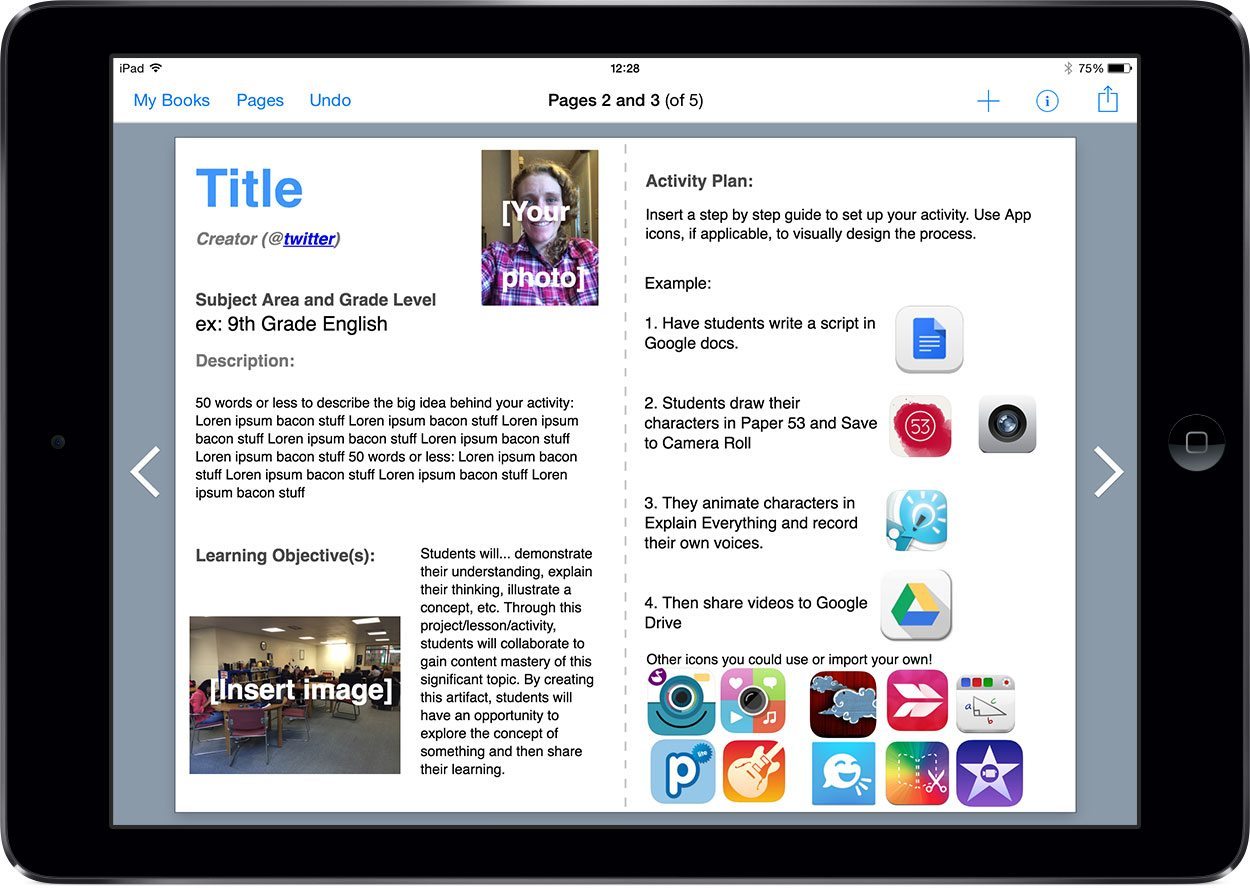 Dan Kemp is Tools for School's Marketing & Community Manager. He spends his time spreading the word about Book Creator and supporting people who use it.