January 2019 Newsletter
January 2019 Newsletter
Latest Book Creator news
Your chance to join our community, some new resources, and brand new webinars in July.
Become a Book Creator Certified Author
We are excited to launch our new accreditation programme to help fast-track you to success with Book Creator!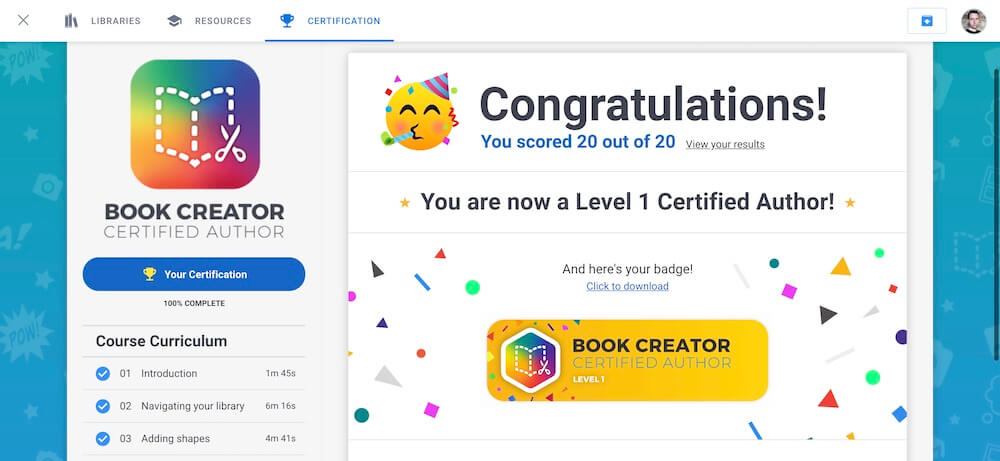 Our self-paced training course is now available. View the 14 video lessons, take a quiz, and you will become a Book Creator Certified Author.
Book Creator Ambassador class of 2020
Applications for the class of 2020 are now open! We have over 850 ambassadors throughout the world, a great community of educators who support each other, contribute to the development of Book Creator and benefit from all sorts of perks!
Learn more about the program here.
The deadline for applications is Monday 31st August.
Using Book Creator for Writer's Workshop
Do you teach Reader's & Writer's Workshop? Have you considered how you could supercharge your curriculum by infusing Book Creator into every stage of the writing process?
We spoke to teachers who already benefit from using Book Creator for Writer's Workshop. We've written a case study with some great tips for implementing this yourself.
Teach Digital Citizenship with Book Creator
Dr. Monica Burns has authored a new ebook to help you get to grips with promoting digital citizenship in your classroom.
July webinars
We have a number of brand new webinars scheduled this month, hosted by our Teacher Success Manager Jon Smith and also a few from Book Creator Ambassador Ben Sondgeroth.
See the full list at bookcreator.com/webinars
Here are a few choice ones:
July Lesson spotlight
Have you seen our FREE ebooks full of lesson ideas for teachers? In this month's lesson spotlight, we've shared one special lesson from each book for you to explore this month. Check out the Resources section of your Teacher Dashboard for even more ideas!
To celebrate World Emoji Day 🦀 (17 July), choose an activity from this book and ask students to add emojis to tell a story, illustrate a math problem, or any activity that grabs your attention!
Try activity #14 with students this summer and encourage them to create a fitness journal. You might ask them to set a summertime goal or reflect weekly on their activities.
Try out the Flipgrid video creation tips in this book to celebrate Friendship Day! (30th July) Students can record a video message and link to it in a Book Creator journal or class book.
Your high school students can try activity #10 in this book and collect questions around National Parks and Recreation month. Encourage students to research, then pause to record new wonderings.
Last month, we
shared a Yearbook template
that you can download and remix in Book Creator. It's been fascinating to see examples pop up where you've been using it! This one was from Book Creator Ambassador
Jose O'Donovan
in Thailand.
Book Creator Ambassador spotlight
Pana Asavavatana, Taipei, Taiwan 🇹🇼
This month's Book Creator Ambassador Spotlight is Pana Asavavatana. Pana is an early childhood educator at the Taipei American School in Taiwan. Her blog Ms. Pana Says includes stories from her work implementing STEAM curriculum with students in kindergarten, first and second grade.
In her role as a Technology and Design Coach, Pana has helped lead initiatives around 3D print design, coding and robotics, engineering, and digital and media literacy with K-2 students.
Pana has been a Book Creator Ambassador since 2015. This year she was on the panel of judges that helped decide our Book Creator competition winners.
July Social Challenge
We'd love for you to win a special Book Creator mug!
Share a lesson idea or activity you've used with students working from home with the hashtag #BookCreatorChallenge and make sure to tag us so we can follow along and celebrate your creations!
We'll choose one lucky winner at random. Good luck!
Dan Kemp is Tools for School's Marketing & Community Manager. He spends his time spreading the word about Book Creator and supporting people who use it.