In their Spring Education event, Apple outlined their next moves in the ongoing competition to be the no.1 provider of educational software and hardware to K-12 classrooms.
These announcements included a new 9.7-inch iPad with support for Apple Pencil, increased iCloud storage, some new apps for device and classroom management, and updates to their key educational apps, including Pages, Clips and GarageBand.
The update to Pages brings some of the features of Apple's book creation app for the Mac 'iBooks Author' to the iPad for the first time.
We always expected this day to come. Many Apple Distinguished Educators (ADEs) have been clamouring for an iPad version of iBooks Author and perhaps we can take it as a compliment to us that it's taken 6 years (since Apple's last education event) for them to bring book creation to the iPad. Apple have supported us throughout and we are thankful for the relationship we've had with Apple executives in the UK and US. Just last month, we worked with Apple to donate Book Creator for iPad to their ConnectED programme, meaning 114 underserved schools across America can now receive Book Creator for free.
We love Apple's emphasis on unleashing creativity, and the iPad is the perfect tool for this. It's great to see their new 'Everyone Can Create' curriculum, which focuses on communicating through drawing, photography, music and filmmaking. We have a shared vision to empower students with tools to express themselves and amplify their voice beyond the classroom. It makes sense that Apple would want to add book creation to their portfolio of creativity tools.
So, did Apple just kill Book Creator?
There was a great debate on Twitter about iBooks Author vs Book Creator back in 2015. In our blog post covering the debate, the last comment said "Will iBooks Author ever be available as an iPad app?". We knew back then that if they did release iBooks Author on iPad, it would probably spell the end for Book Creator.
However, fast forward to 2018 and we have a fantastic user base with over 1 million books made in Book Creator every month. We have 400+ knowledgable and supportive Book Creator Ambassadors, and Book Creator is available on the web for all platforms, as highlighted by Google in their announcement about the new Chromebook tablets.
[clickToTweet tweet="Did Apple just kill @BookCreatorApp? I don't think so!" quote="Did Apple just kill Book Creator?"]
Apple have baked book creation into their Pages app rather than choose to release a separate focused app. This means the Pages app must serve as a tool for classroom, home and business users.
With Book Creator, we've focused on keeping the app super-simple to use, so that anyone from age 4 upwards can use it. Let's see if Pages can be accessible in the same way.
The book templates in Pages are beautiful and we can see them being very useful for teachers and middle school students upwards, but how about Kinders creating their 'About me' books? Or first graders improving their reading fluency through voice recording. Or schools that want to progress students (and their books) onto Chromebooks?
Here's a challenge for you. Open a blank landscape book template in Pages. Now add some text. Can you do it? Try the same thing in Book Creator. Now imagine you're a 5-year-old in class...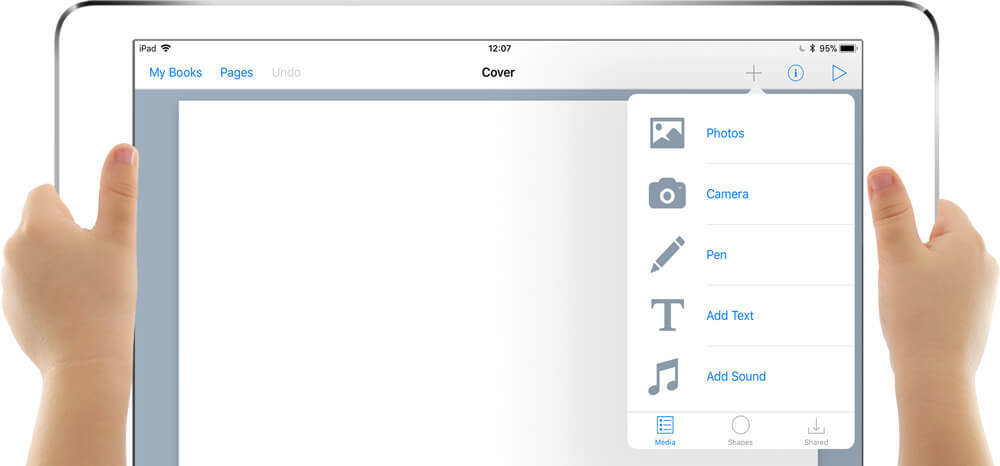 So (after experiencing the full range of emotions yesterday) rest assured we're going to carry on making a super simple book creation tool that works for all grades on all devices, with awesome classroom features like audio recording, comics and 'read to me'.
We've put together an "in-depth" look at the current differences between Book Creator and Pages:
After today's exciting announcements from Apple, here's an in-depth and scholarly evaluation of the differences between Pages new book making templates and Book Creator. #AppleEDUchat pic.twitter.com/4BDSCurE1i

— Book Creator Team (@BookCreatorApp) March 27, 2018
We also have a raft of great features that currently exist in our web app that will be coming to iPad soon: in-app Google Image Search, libraries for managing student books and real-time collaboration to name a few, with some other exciting developments we're yet to reveal.
Our commitment to educators
Of course, we appreciate that Pages is available for free, and Book Creator costs a few dollars. Our commitment to educators is that we will continue to work hard, building the very best tool for classroom use, and supporting you in every way that we can.
Happy book making (whichever tool you use!)
Dan & Dan
---
p.s. We've loved seeing your responses on social media (not to mention those we've received privately). Thank you so much!

Dan Kemp is the Marketing Director and has been working here since 2013. One of Dan's favourite jobs is hearing the stories of how Book Creator is used to bring joy to classrooms all over the world, and he happily retells these stories on these pages!