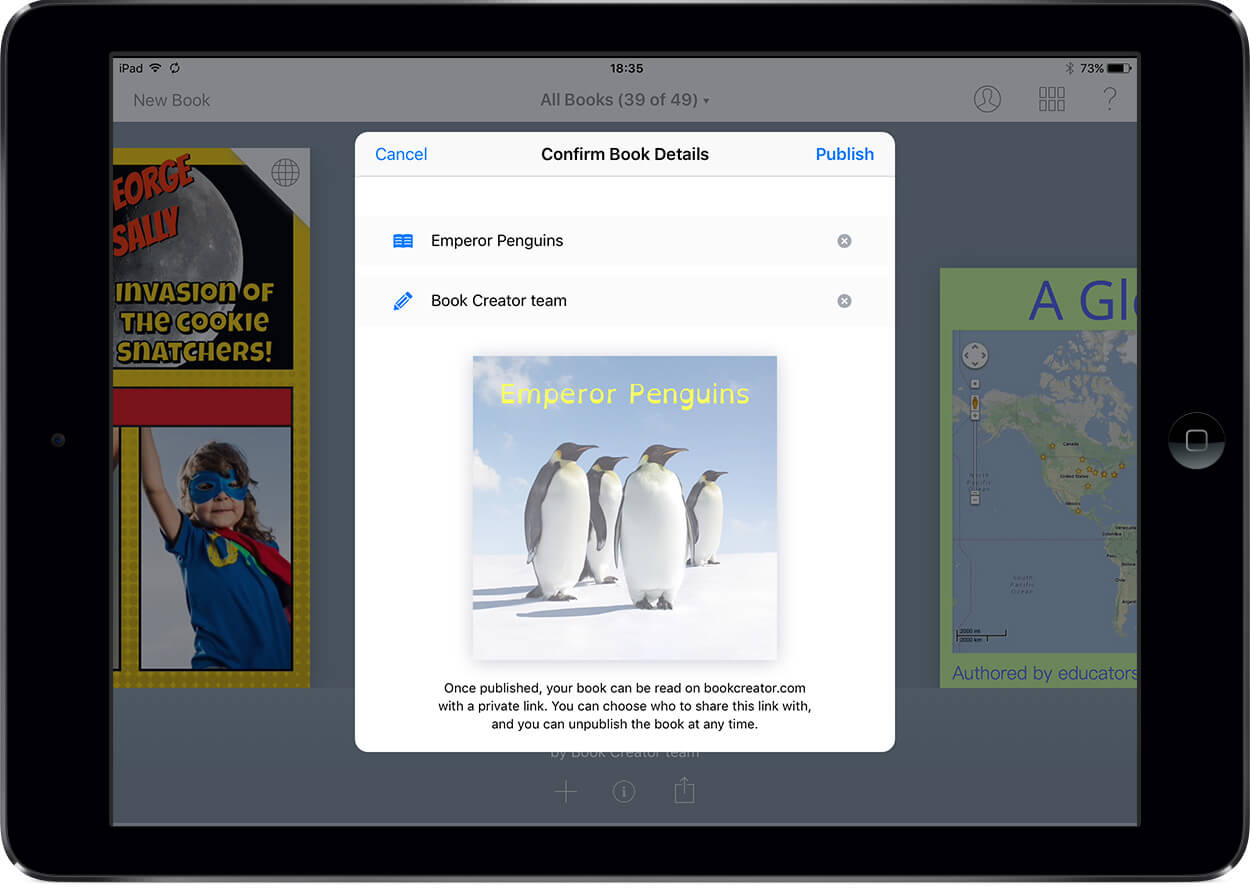 This has been the most frequently asked question since Book Creator arrived on the App Store – how best to share your books?
Now you can:
Publish your book to bookcreator.com.
Your book is fully interactive – turn the pages, play audio and video.
No more need to share your book as a video to make it accessible to everyone!
Books are private, but easy to share with parents or even globally.
Embed a link to your books on your website.
Publishing is certified student safe for educational use.
---
W
e're so excited to bring you this latest update to Book Creator for iPad. You can already share your book as an
ePub
,
PDF
or
video
, but we've always wanted to bring you the easiest, most accessible way to share your books with anyone, on any device.
That day has finally arrived…
Publish your books online
With Book Creator 5.1, you can now publish your books and make them available on the web.
It's ludicrously simple. Just tap the export icon beneath your book, and instead of choosing ePub, PDF or video, choose 'Publish online'.
The first time you do this, you'll be prompted to create a Teacher account, which you can do with your email address or with an existing Google account.
Read your books online
Publishing your books online is one thing. There are already ways to do that. The real magic is in the fact that you can read your books online!
We've built a fully interactive web-based reader for your ebooks. Turn the pages, play audio and video, and change the page layout, all in your browser. All modern browsers are supported on laptops, desktops, tablets and mobile.
You can also easily share your book with parents, to social media, or embed on your website or classroom blog.
Check out some of our favourite examples:
Options for reading on the web
What about privacy?
It's super important, and we've baked it right into Book Creator.
Firstly, students cannot publish their own books. It will always be the teacher using their own account that chooses whether or not a book can be shared online.
Once published, books are not publicly searchable on Google or other search engines. You can only access a book using its private link. It's up to you, as the teacher, to decide how and with whom you share the link.
In addition to this, we have achieved full certification from iKeepSafe.org that Book Creator is compliant with COPPA, FERPA, California Education Code 49073.1 and SOPIPA. This is the most secure level of certification available for educational technology products. You can also review Book Creator's compliance in our Privacy Policy.
Of course, teachers must always check that they are complying with their own school's standards for sharing data and images before publishing a book online.
Will there be a cost for publishing online?
Setting up a platform for sharing and reading books such as this has associated costs. We have to host the books and pay for bandwidth, and with over 1 million books made every month the costs will be significant.
At the outset every teacher can publish 10 books for free. We will now gather data about how many books are shared and read online, and announce pricing for more books as soon as we can. We are committed to offering great value to schools and will ensure there is a generous free level so that all teachers can publish lots of their students' work. More on this soon!
---
Got any questions?
That's fine – please post them in the comments below. And hey – this is just the beginning. Reading your books online is great. Soon you will be able to
create and edit books online too…
[clickToTweet tweet="You can now publish and read your book online with #BookCreator!" quote="You can now publish and read your book online with #BookCreator!"]

Dan Kemp is the Marketing Director and has been working here since 2013. One of Dan's favourite jobs is hearing the stories of how Book Creator is used to bring joy to classrooms all over the world, and he happily retells these stories on these pages!