This year, how might we all use Book Creator to support and celebrate each of our students? Teachers and students can harness the power of Book Creator to foster a positive, caring, and supportive classroom community and culture.
Though many students and teachers - particularly in the United States - have already started back to school, others are just getting ready for a new year. Recently, I wrote about the idea of the First 5s on my EdTech Researcher blog. Building off of an idea from Alan November, I thought about what teachers could do in the first five days, weeks, and months of the school year to focus on building an accepting and respectful school culture as well as a positive classroom community. Then I started thinking about how Book Creator might be the perfect tool to support that process.
The first 5 days
Now that Book Creator is available for iOS and Chrome, teachers can harness its power on any device! Imagine setting up a station with a single iPad, Chromebook, or even desktop during the first week of school and then personally engaging with every student as you co-create a page to introduce them to the class. With younger students, this might be a first introduction to technology; and with older students, it could afford you the opportunity to make a personal connection through a shared activity.
Another option might be to create 'Who Am I?' books to kick off the year. Given the capability to insert audio and video in addition to static images or text into books, all students have the capacity to then share their identity with Book Creator.
Though we often think about empowering early readers and writers with audio, the ability to capture voice could be just as helpful for non-native language learners so that all students can share their identities with their classmates. Even older students might feel more comfortable speaking to a screen before talking in front of their new classmates.
Several years ago, an early elementary teacher told me that she asks the parents to create 'memory books' for the students to keep in their desks. Though the students wanted to share these treasures from their families, the teacher worried that the pictures might get ruined when passed around.
With Book Creator, the students could take pictures of what their parents created and then add their own narration. Now they could have the physical artefact in their desks as well as the ability to share their memories with their classmates. With Book Creator's web publishing platform, teachers could even create a library of these books that the students - and their parents - could access from any device.
Finally, Dr. Theresa Cullen used Book Creator to design the syllabus for her college course on educational technology. Not only did it allow her to display the course content in a more personable and engaging way, but she also modeled the use of the app for her incoming students. Consider using Book Creator to design your course materials so that you can add your voice, videos, and imagery to convey the type of community that you hope to create within your class.
The first 5 weeks
The power of Book Creator lies in how it extends the familiar paradigm of a book to include multiple forms of media. Not only does encouraging students to express themselves through various modalities support their thinking, but it also allows them to express their ideas in a manner that best fits both their learning needs and their cultural identity.
According to author Geneva Gay[1], schools typically value speaking and writing that "gets to the point." However, many students come from cultures that engage in what she would call "topic-chaining." This is a type of contextual conversation that includes stories and illustrations to create a deeper understanding of a particular concept.
Book Creator allows for both topic-centered (to-the-point) and topic-chaining communication. Students can clearly articulate their points in writing and still add context through audio, video, and imagery. Providing students with these options gives them multiple avenues through which to express their learning and also indicates that you value their voice.
Within the first five weeks, students also need the opportunity to engage in cooperative and collaborative learning as well as individual endeavors. Whether students work together to design a classroom community handbook, to create their first study-guide, or to share their learning about summer reading, they could use Book Creator. The Combine Books feature supports this type of collaboration as it encourages students to work together, learn from each other, and value the contributions of each member in the group.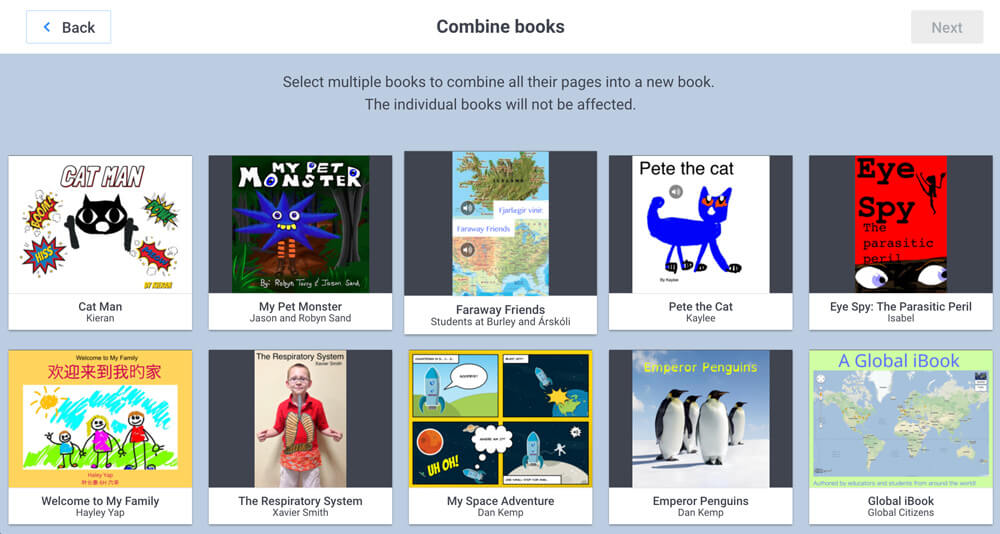 The first 5 months
This year, how might we encourage our students to develop their global identities and make a contribution to the world? Armed with Book Creator, consider how your students might capture the voices in their community and share their discoveries with the rest of the world.
When Sabba Quidwai was Director of Innovative Learning at the Keck School of Medicine at the University of Southern California, she designed a documentary project for her students. Beyond learning about using video, she wanted them to experience the community in which they would most likely become practitioners and discover the power of empathy. In the first five months of school, how can you empower your students to deeply understand, value, and respect both their home and their school communities? What projects or activities might encourage them to examine the world from a different perspective?
[clickToTweet tweet="Armed with #BookCreator, how might students capture voices in their community and share them?" quote="Armed with #BookCreator, how might students capture voices in their community and share them?"]
Imagine the power of using Book Creator to capture the sights and sounds of the school or the community and then create a narrative. Whether it is celebrating a problem-solving breakthrough in a science class or capturing the stories of residents at a local senior home, students could have the opportunity to develop a deeper sense of their own cultural identity as well as the identities of their peers and community.
So as the new year begins, how might we all consider using Book Creator to support and celebrate all of our students? We hope that you will share your creations in the comments below or to our #BookCreator hashtag.
---
[1]
 Gay, G. (2002). Preparing for culturally responsive teaching. Journal of Teacher Education, 53(2), 106–116.
http://doi.org/10.1177/0022487102053002003
Dr. Beth Holland is a vastly experienced educator, writer, researcher, and international presenter. She's also a Book Creator Ambassador!