What happens when you break the mould in school and decide to do assemblies a little differently?
Like many schools, our primary school has regular assemblies which are led by different year groups to showcase learning. When we look at the purpose of assemblies they are:
An opportunity for children to express themselves and present their learning.
For teachers, parents and students come together as a school community.
However there is a mould of assemblies that needs to be broken, that of the audience. There is an assumption that assembly audiences are there to sit and listen with maybe a bit of singing and clapping thrown in. OK once in a while, but when you have to sit through the same thing week after week… it gets a little, well, boring.
Enter the maker faire. A maker faire is basically a community coming together to build. In our case something really simple, a balloon car.
How it began
After a successful makerthon, the kids were all pumped up to start our transportation unit. Four days later, the children went on holiday for two weeks. To get the kids back into the mood for the unit and to reconnect with each other, they spent a morning making balloon cars.
There was a catch… I hadn't left the kids any instructions, just a prototype and some materials in our craft area.
The children then spent the morning figuring out how to make the car, ironing out construction bumps along the way.
Figuring that I had to do a writing assessment anyway, I got the children to write up their explanations of how to make the car and how it works. I marked their work and got them to reflect on their writing and come up with a goal.
Adding a twist
As I also teach a Year 3 classroom, In included another twist. After my Year 4s finished their goal setting for writing, I casually mentioned that I was going to be using their instructions to get the Year 3s to make the car.
A gasp went up.
"Umm Ms Stephanie, we might need to change some things."
I couldn't believe my ears.
"When creating for teachers, kids will do 'just enough.' When writing for someone else, they will do more than enough."
Normally getting the kids to edit their work is a painful process, once children feel like they are 'done' they often lack motivation to really revise their writing.
It was then that I introduced the text features and we built some success criteria for our writing. The children spent the morning editing furiously, asking about spelling making sure that their explanation was just right.
I invited my class to come over to help the Year 3s where they got some genuine feedback about their writing. They quickly realised that there were points they hadn't explained carefully because the Year 3s were stuck.
A brilliant idea
With phase assembly looming, one of my colleagues had a brilliant idea. Instead of spending the usual assembly where classes would spend hours practicing and rehearsing scenes and the audience sits and listens, the entire of the primary school could make a balloon car based on instructions written by our students.
This seemed so much better than the usual process. The kids were still viewing and presenting but would be doing so with their parents. Our Year 5s and Year 6s would help the children in the younger grades.
The children were on board with showcasing their learning to a bigger audience in a different way. But then another problem was identified.
"Ms Stephanie, the Year 1s can't read so well. How can they follow our instructions?"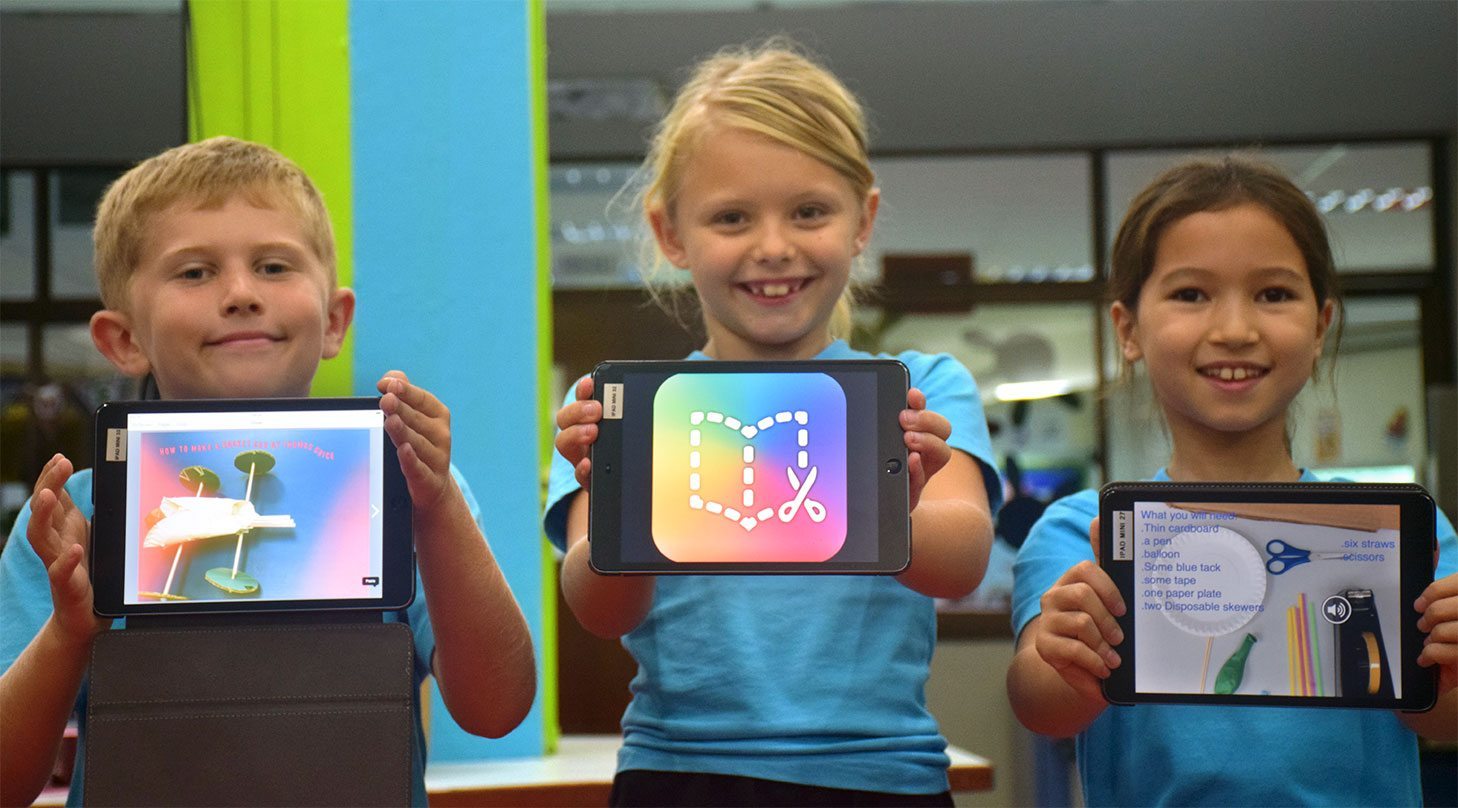 Enter Book Creator
So we looked at Book Creator, an app which easily enables kids to add pictures and text in book form. The added bonus of Book Creator is that alongside the traditional text, children can drop in audio files and movies. All of sudden a book wasn't just a book, it was a multimedia experience.
When the kids had finished writing, they had to think about how to use visuals to help explain the process. Despite having more access to cameras than ever before, children still need help thinking about what makes a good picture. Most kids at Year 4 will generally point the iPad in the general direction and hit capture.
Getting the kids to really think about their photography required explicit teaching around perspective, lighting and how to focus. Photography challenges inspired by Dave Caleb helped the children improve their photography (including a huge teacher tip, get the kids to set a timer before they run around snapping).
Thinking about book design
Following on from this, the children's first attempts at laying out their books were really bad. Clashing colours, tiny pictures, text plonked anywhere and atrocious fonts.
I used Keri-Lee Beasley's multi-touch book Design Secrets Revealed to teach the children more about design through a simple acronym, CARP. Contrast, Alignment, Repetition.
The acronym is simple, and after a few mini lessons and design challenges the kids had language to help them starting to thinking about design.  Be warned though, the kids will start noticing your design. The children pulled me up on a lack of contrast in their final rubric!
Some of the kids experimented with using other apps such as PathOn to overlay text and photos which they saved to their Camera Roll and put together into the book. We then AirDropped across our creations onto the Year 1 and 2's classroom iPads for the children to use during the assembly.
Introducing some maths
As the assembly drew near, I went out and purchased the materials. Rather than do the work of creating packs of supplies for each class to use, my co-teacher and I used this as an opportunity to do some real life multiplication and division. The kids were responsible for making packs.
The children quickly worked out project was going to require a crazy amount of maths. Some chose to use counting on while others were more confident using numbers. In hindsight I should have got the children to tell me how much material I needed to buy and got them to cost the materials out.
Using technology to document and overcome constraints
The iPads were used to document the process, with the kids reflecting back on their blogfolio about their learning.
One of the creative constraints we faced for our assembly was a lack of space. Our school auditorium is snug when we are sitting together. But this assembly would require lots of space. Instead of all being in the same space, the children from the other year groups stayed in their classrooms.
A Google Hangout was used to connect different classrooms together through the interactive whiteboard.
We then visited different spaces to see what was going on with a few kids acting as reporters through iPads. Would it have been better if we could have all been in the same place at the same time? Absolutely. But the technology kept us linked without being intrusive.
The outcome
After the initial trepidation about doing something different, the audience took to it with gusto. During the assembly one of the parents remarked to my co-teacher that the instructions weren't so clear.
What the parent hadn't realised was the instructions were written by their child. My co-teacher suggested feeding that observation back to the child and looking for ways to improve. This moment led to what we really want out of our assembly: conversations about learning.
Instead of hours spent practicing lines and rehearsing, the children were learning how to create, do maths and write. They still had an authentic audience and the only downside in the experience was feeling sad for the kids whose families weren't able to attend to share in the experience.
What I've learned
Be less helpful – If I had started with learning intentions and success criteria the kids wouldn't have been as interested. But by stepping back and looking for teachable moments, the children learned more and were more motivated.
If process is complex, keep the content simple – The year 4s are capable of making something far more sophisticated. But given the amount of learning areas we touched on in this assembly, a simple balloon car went a long way. We explored other lines of inquiry but used the assembly to explain one thing really well.
Technology is great but isn't a substitute for good teaching – Much of this experience could have been achieved without iPads. As I've mentioned before, the best part of learning with iPads is the kids pick them up when they need to and then put them down again.
Technology enabled the children to create and share more effectively – If you're using iPads for skill and drill games, you've missed the boat on the amazing learning opportunities from these devices.
Connections matter – The maker theme of our unit came out of a tweet from @GCD28 about the global cardboard challenge.
But most importantly don't get bogged down in tradition for tradition's sake. Look for the purpose behind the traditions.
Assemblies are:
An opportunity for children to express themselves and present their learning.
For teachers, parents and students come together as a school community.
I think we achieved that.
Stephanie Thompson is an Apple Distinguished Educator from New Zealand. She currently teaches a class of Year 4 Children at Nexus International School in Singapore.
Stephanie was introduced to Book Creator at the Apple Distinguished Educator institute in Bali in April 2013 and saw huge potential for how easy it was to use and share.