We're super excited to announce that Book Creator now comes with over 100 teacher created, professionally designed graphic organizers, enabling your students to make use of all our multimedia and accessibility features as they visualize and organize information, plan writing, tackle problems, practice vocabulary, reflect on their learning and provide feedback to peers.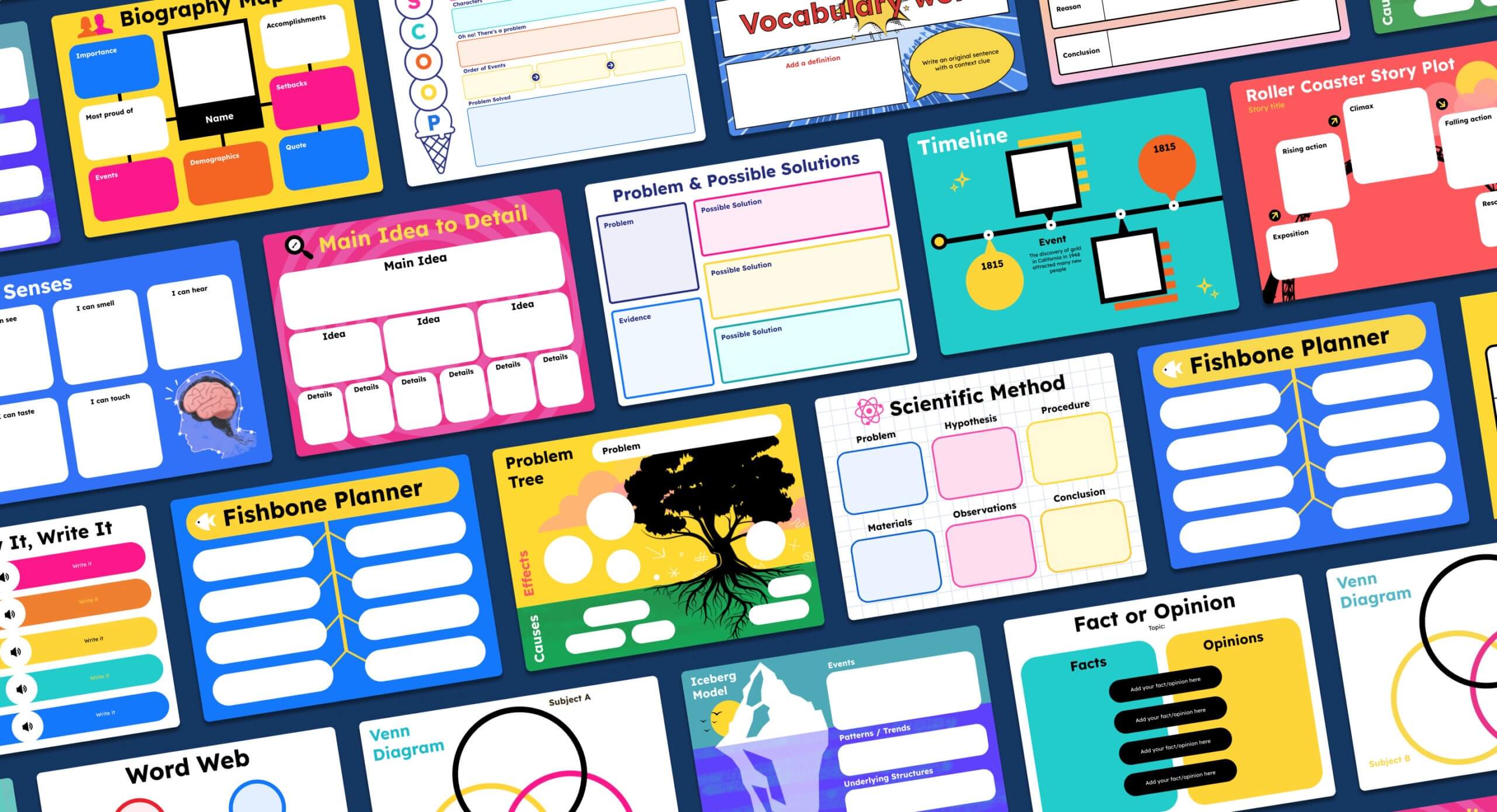 Go beyond a print out!
As a teacher, you can easily add Book Creator's graphic organizers as pages in any of your books or in any student templates you have created. This means they can be fully customized by you to suit your learners' needs - just unlock the items to edit their layout and content. Alternatively, you can enable students to access the graphic organizers themselves and add them into their books.
Your students can then use all of Book Creator's simple multi-modal tools to complete their organizer. Instead of just writing on a printed sheet they can now also record their voice or video, import or draw images, and even use stickers and gifs (if enabled by the teacher). Plus with our built in accessibility features such as speech to text every student has an opportunity to put down their best thoughts.
This student chose to use video, audio, emojis and a selfie for their study of a fictional character.
How to get started
The graphic organizers are now available in Book Creator's built in App Store. Sign into Book Creator, simply enable the graphic organizer app, then you and your students can add your chosen organizers to your books.
10 graphic organizers are available to all users, with the full set of over 100 organizers available to teachers on a premium or schools and district plan. Our graphic organizers have initially been designed in landscape, so they work best in portrait and landscape books for now.
Final thoughts
Let's hear from Monica Burns of Class Tech Tips about why these new graphic organizers are a must for your classroom.
What do you think of this feature update? How will you be using the graphic organizers? Let us know in the comments below.
Dan is the founder of Tools for Schools and the Chief Product Officer of Book Creator. He is married to the children's author Ally Kennen, and they have 4 great kids.