How publishing your first iPad Art ebook could be a simple matter of "tap, tap and you're published".
Since late 2011 I've been painting and drawing my local landscape in Surrey on an iPad. I work predominantly outdoors, my painting inspiration – follow the season. I've produced quite a few pictures and so the idea of publishing an iBook about my iPad art appealed to me. I liked the consistency of this – my art is created using an iPad and the iBook is also made right on the iPad.
Choosing Book Creator
I found Book Creator after spending time exploring both online and desktop options for making an iBook. I downloaded the free version of the Book Creator app and started to see what I could do with it. I found the experience of creating in Book Creator intuitive, it was similar to that of using an Apple app. I quickly decided the app was what I needed and bought the full version.
Making my iBook
Creating my iBook was a threefold process of deciding on the structure for the iBook, preparing the content and assembling this in Book Creator. None of these processes has to be linear in Book Creator, meaning I was able to focus on and enjoy making my iBook.
Based on the format of my iPad art I started by choosing the shape of my iBook (Book Creator provides both portrait and landscape formats for an iBook). I then added pages and content to my iBook. The ability to design the layout of my iBook was important to me. Book Creator enabled me to do this.
Choosing content, text, pictures and video for each spread is as easy as tapping the plus icon at the top of the screen. My iBook is a 90 page compilation of iPad art: all of the pages contain images. Each image had to be crisp, clear and positioned precisely on each spread. Using the usual iPad gestures of tap, hold and drag I found the Book Creator process of placing, resizing and rotating content familiar. Book Creator also enables exact pixel placement of content which was a necessity for my iBook.
For the next stage I added text to my iBook. I have a few pages of introduction at the beginning of my iBook. I keyed in my text and styled the text block, font, size and colour on each spread and then included email and web links to these pages. Some page text was compiled in Book Creator while other pages were written in the iPad Notes app and then brought into the Book Creator via the usual cut and paste feature.
One of my reasons for choosing to publish an iBook, as opposed to a printed book, was the ability to include a movie in the book. When I'm painting on my iPad, the art app that I use records each paint stroke or line drawn and shows the build up of work over a compressed period of time. I wanted to show how my art work was drawn. The 8 minute movie included in my iBook shows this and in reality took around 8-10 hours to draw.
Book Creator enabled me to put a movie of my art work in my iBook, something that is not possible in a printed book. The app also seamlessly converts movies placed on a page into the m4v format which is a real help (this is the format that Apple stipulates must be used in iBooks published to the iBookstore).
After placing a movie into my iBook I added a contents page and linked my chapters of About, Sketches, Drawings and Paintings to the relevant pages, making it easy for readers to tap ahead to the chapter they might be interested in. Finally I added a contacts page to the back of my iBook with email and social network details.
Final draft edits and testing
During the entire process of designing my iBook, Book Creator enabled me to add, duplicate or delete spreads. With a tap, hold and drag of a finger I could move spreads around my iBook. I could also test any amount of draft books to the iPad iBooks app. I was able to see exactly how a reader might interact with my iBook on an iPad and make adjustments to improve this experience where I needed to. If you want to share your draft book prior to publication then Book Creator has a number of options that enable this, which is helpful.
Publishing my first iBook with Book Creator
If you're a creative person then you'll know that when you produce something for yourself everything tends to take longer to finalise, because you want to be as happy as you can be with what you produce. I took a few days to design, finalise and publish my iBook but much can be done in just a few hours. During the project, I received great support from the Book Creator team along the way, not that I needed much. Book Creator really is an incredibly easy and flexible app to use.
The end result
This book is my first iBook and it's been a labour of love. The book is a collection of iPad Art sketches, drawings and paintings – all made on an iPad since late 2011.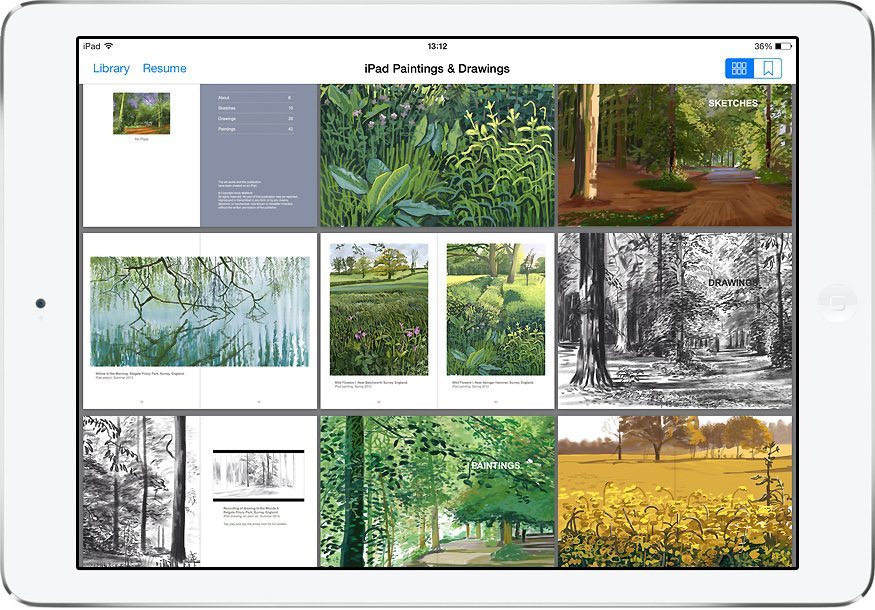 iPad Artist Andy Maitland makes digital landscape drawings on an iPad using a stylus and the drawing app "Brushes". iPad drawings are made directly from observing the landscape outdoors and in the studio in Surrey, UK.