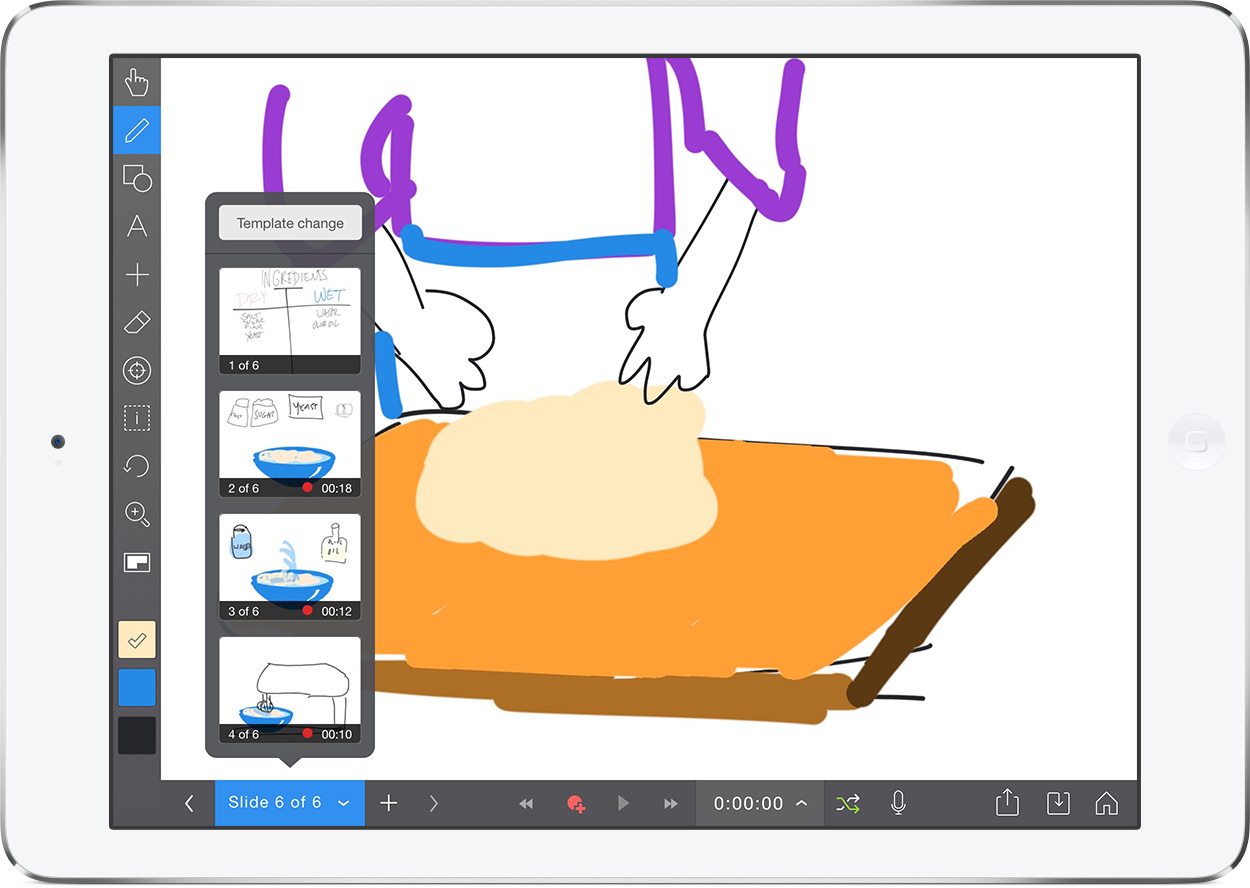 This is the final part of the 4-part series looking at how Explain Everything and Book Creator can be used together in the classroom.
In part 3, we looked at how to create a comic in Book Creator and animate it in Explain Everything.
For the final part of our series, we will demonstrate how to create an animated recipe cookbook.
We'll be creating individual hand-drawn animations with Explain Everything on multiple devices, using AirDrop to transfer the videos to a single device, and using Book Creator to bring them all together as a single ebook.
1. Make a storyboard / plan
Whether it's a recipe or any other procedure, write out all of the parts/steps so that each one can be assigned to a student (or group of students). For this example, we're doing a pizza dough from scratch recipe. We'll assume that the students have learned (from experience or from some other text) the necessary ingredients and steps.
Here are the elements that need to be created:
Book Cover
Ingredients
Step 1 (dry ingredients)
Step 2 (adding wet ingredients)
Step 3 (mixing and checking the dough)
Step 4 (kneading the dough)
Step 5 (letting it rest)
Step 6 (creating the pizza dough balls)
Each of these parts can be assigned to a student (or two or three) to create. It might be fun to assign the book cover to the student(s) who finish their parts quickly.
Now let's get creating! Watch the video below or scroll down for written instructions with images.
2. Hand-drawn animations
Let's pretend we're the student who was assigned the ingredients. Using the draw tool, we'll create each of the ingredients: flour, yeast, sugar, salt, water, olive oil. The student can write or speak the amount of each necessary.
Now let's pretend we're the student doing step 1: adding all of the dry ingredients to a mixer at a low speed.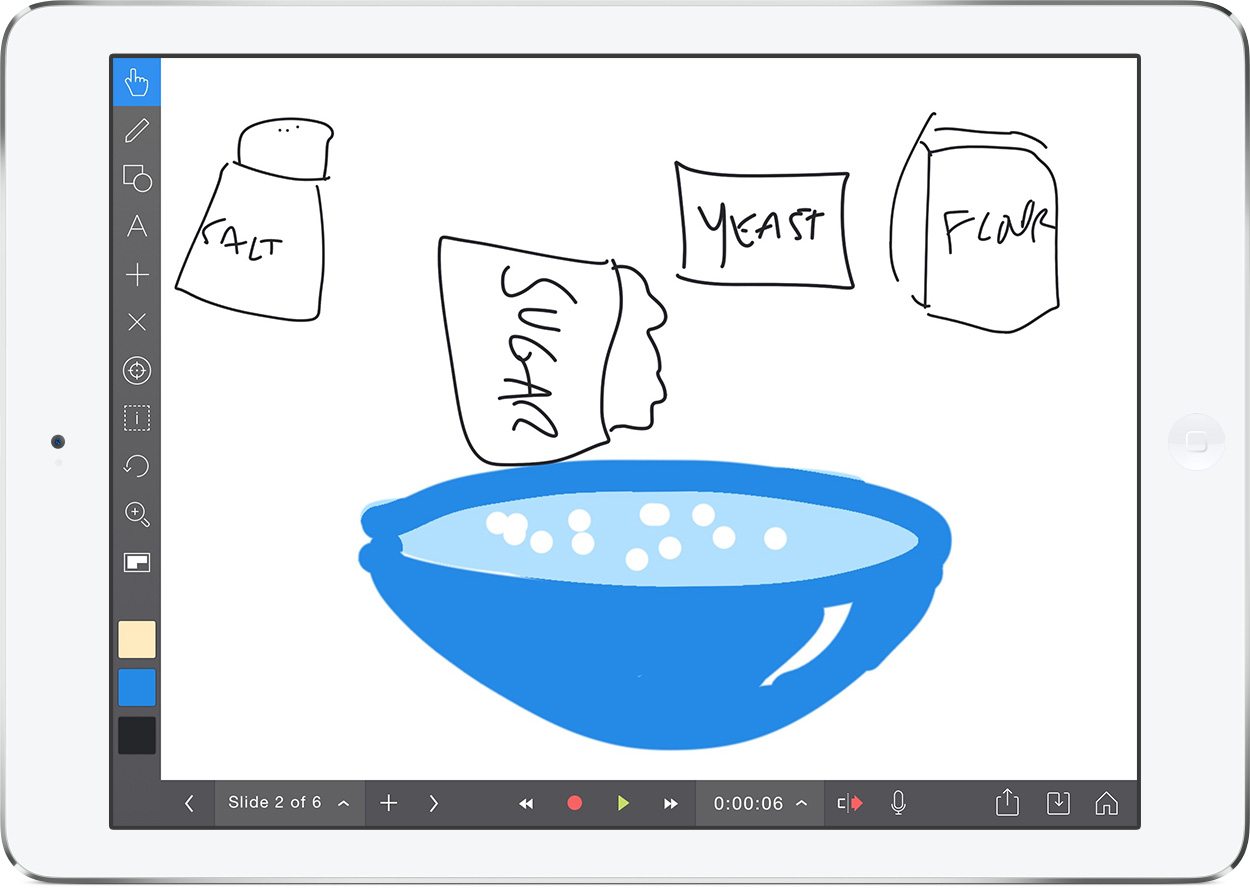 3. Exporting the video
After each mini-movie is created, the student should export the project as a movie and send it to their teacher (or whoever the assembler will be) via AirDrop. AirDrop needs to be possible (newer iPad devices) and enabled (swipe up, Airdrop > Everyone) for the sender and receiver. One of the nice things about AirDrop is that the video file will automatically be placed in the recipient's camera roll.
Tap the export icon and then choose the 'Open in' option from the list of icons. You should see the teacher iPad appear in the AirDrop area.
4. Assembling the content in Book Creator
Now that all of the video content is on one device, we'll create a new book in Book Creator and add each video step to individual pages. Text boxes can be added to write out the ingredients and steps. And don't forget the book cover! An image can also be sent via AirDrop, or drawn using the pen tool in Book Creator.
5. Send the book to the iBooks bookshelf
Once the book is ready, it can be exported as an ePub and viewed in iBooks. And if you are really ambitious it can be published to the iBooks Store (note this requires an adult with an iTunes Connect account).
 Part 1: Exporting a PDF from Book Creator to annotate in Explain Everything
Part 2: From Explain Everything to Book Creator to iTunes U
Part 3: Create a comic in Book Creator and animate it in Explain Everything
---
About Explain Everything
Explain Everything is a unique interactive screencasting whiteboard app being used by over 2 million students, teachers, leaders, and learners around the world.
Explain Everything is available on iOS, Android, Windows and Chromebooks. Find out more at explaineverything.com.
Dr. Reshan Richards is an educator, researcher, and entrepreneur. The co-founder and Chief Learning Officer of Explain Everything, Reshan is also an instructor at Teachers College, Columbia University.