We are excited to launch our new accreditation programme to help fast-track you to success with Book Creator!
We have a brand new feature to announce! We're launching a certification programme to steer you through learning the basics of Book Creator, and then helping you to apply our rich range of features to specific classroom scenarios.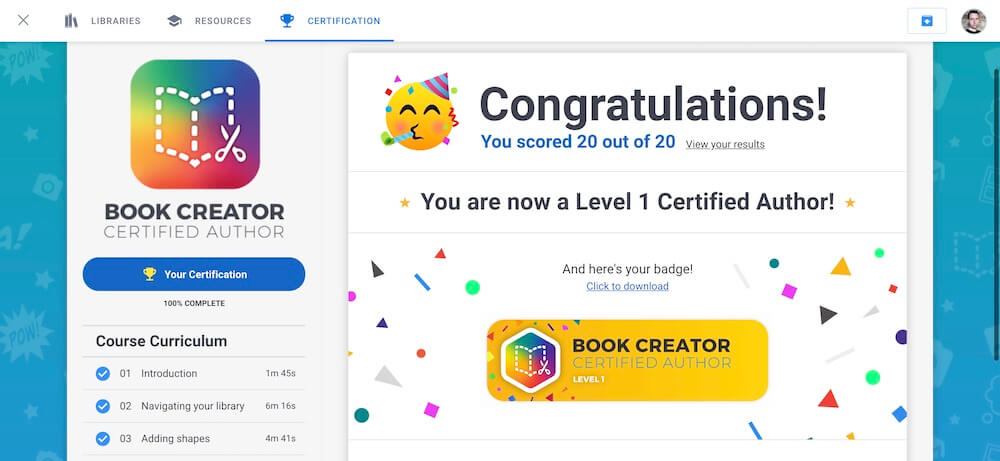 The Book Creator Certified Author programme is divided into two parts. For level 1 certification, there are 14 lessons covering the standard features of Book Creator - adding multimedia, reading and publishing books, navigating your libraries and more. At the end of level 1 you need to pass a quiz, at which point you'll become a Book Creator Certified Author, and receive an awesome badge!
Note this certification programme is not available via the Book Creator for iPad app, you'll need a Book Creator account to complete this course.
Start your journey towards becoming a Certified Author
To access the Book Creator Certified Author course, sign into Book Creator at app.bookcreator.com
Navigate to the Teacher Dashboard and click on the Certification Tab at the top.
You can work your way through the course at your own pace (we estimate it will take around 60 - 75 minutes in total to complete level 1). Level 1 is delivered through well structured and easy to follow videos.
Our Teacher Success Manager Jon Smith is your tutor for the Certified Author course. Jon has 19 years experience as a special education teacher and technology integration specialist, and he knows Book Creator inside out.
Jon said:
"I'm so excited to be on this journey with you. We've put a lot of time and effort into making this course to bring you the best of Book Creator in a short, easy to digest format. Special thanks go out to our friends at the Ottowa Catholic School Board who helped us develop the course and provided invaluable feedback."
Assign via your admin dashboard
Administrators with access to the Admin Dashboard can request that staff complete the Book Creator certification.
This is a great way for districts to assign PD and deliver renewal credits to staff.
What's more, admins can even see who in their organization has completed certification (or who is still in progress).
So what are you waiting for? Sign into Book Creator now and get your Level 1 badge!!! 🎉
Dan Kemp is Tools for School's Marketing & Community Manager. He spends his time spreading the word about Book Creator and supporting people who use it.