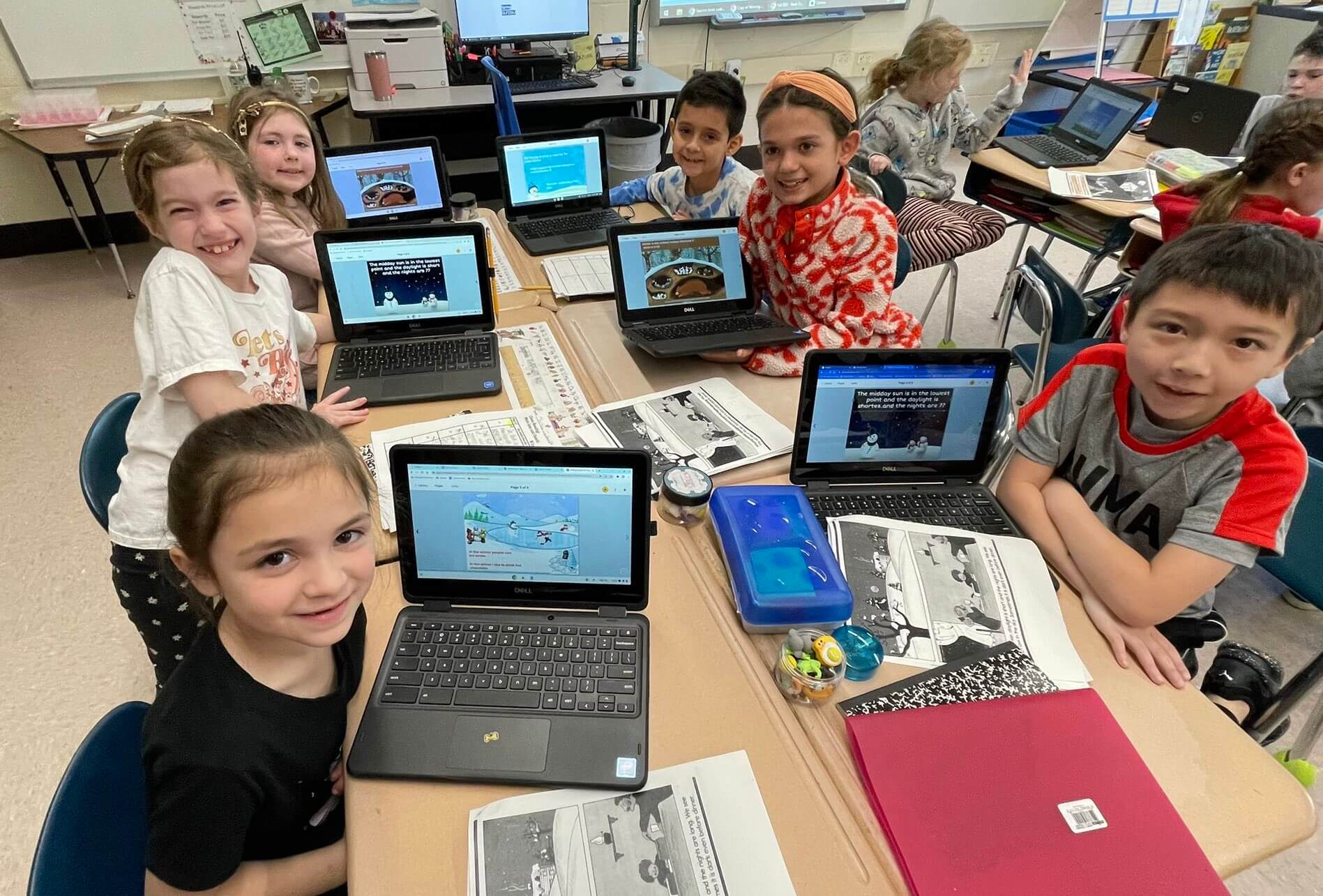 Learn how a Gradual Release of Responsibility coaching model worked for these instructional tech coaches.
School districts across the United States have made significant investments in devices and software to enhance teaching and learning. To support educators in effectively using technology to improve student learning outcomes, many districts have employed Instructional Technology Specialists and Digital Learning Coaches.
While these coaches can have a significant impact, they often struggle to secure time with teachers due to reduced professional development opportunities and a shortage of substitute teachers to allow teachers non-contact time. Additionally, many teachers are hesitant to try new tools due to various pressures.
I was delighted to have the opportunity over the last couple of weeks to meet with two coaches from quite different districts, and hear about the successful approach they are taking to enable teachers and students in their districts to utilize Book Creator.
Shanna OConnor & Michelle Manning
Shanna OConnor is a Book Creator Ambassador and Digital Learning Coach at Milwaukee Public Schools in Wisconsin. The district has 156 schools serving over 69k students. Milwaukee adopted Book Creator district-wide in June of 2021.
Michelle Manning is an Instructional Technology Integration Specialist at Smithtown Central School District in Long Island, New York. The district has 12 schools serving about 8,200 students, and Michelle supports the seven elementary schools. The district started a pilot project with Book Creator in November 2022 after meeting our team at the regional edtech conference, NYSCATE.
Gradual Release of Responsibility
In speaking with Michelle and Shanna, I recognized a Gradual Release of Responsibility model in their coaching. This model involves a gradual and collaborative process of transferring responsibility from the coach to the teacher.
The coach begins by demonstrating and modeling effective teaching strategies, then gradually hands over responsibility to the teacher to implement these strategies independently. The coach continues to provide support and feedback as the teacher gains more confidence and proficiency in their practice.
In the first stage, Michelle and Shanna lead a student lesson in which they introduce Book Creator. In some cases, they'll have students create their own book about a topic of their choice, and at other times they might use an All About Me template, or one of our Teach your First Lesson books.
Michelle stressed how this starting point is a very risk-free way to empower students to learn a new tool. Her district is trying to get students to do more problem solving and develop their independence, so she encourages them to click, look and find their way to get to know the different capabilities of Book Creator.
❄️ 🌸 ☀️ 🍁 Mrs Reid's 2nd graders researched the seasons and wrote about it in @BookCreatorApp ! They did a great job!!! @SCSD_DEL @SmithtownCSD pic.twitter.com/8f46zuuFU6

— Michelle Manning 🍎 💻 (@ManningTechTalk) March 30, 2023
Teachers observe the coaches teaching this lesson to their students, so teachers learn the tool alongside their students during contact time, instead of needing to make time for a Getting Started PD session.
In the next stage, the coaches will plan a lesson together with the teacher, this time using Book Creator to teach whatever content or skills the teacher is planning for their curriculum units. The teacher may provide them with resources they would normally use, and both Michelle and Shanna have taken the approach of creating student templates in Book Creator to support the learning.
Examples
Here are Shanna OConnor's example templates:
Reading response
8th grade reading response for the Diary of Anne Frank. Students were given a choice to write a journal from a different perspective.
Alphaboxes
These can be used with any subject. The student starts by demonstrating what they already know about the topic - filling in as many letters as they can. They add to this throughout the unit.
Other templates
Language learning
Shanna says: "Since returning from the pandemic, many of our teachers have shied away from technology and using Chromebooks because they felt the students sat on computers for a year.
"Book Creator creates a unique opportunity for students to create something to demonstrate their learning. It goes well beyond the "sit and get" of other digital programs, where the students are not producing a product.
"Book Creator increases student engagement, as well as voice and choice of the student. Teachers are thrilled with how engaged and excited students are when working in Book Creator.
"I highlight the accessibility features when presenting professional development and when I'm coaching in a classroom, about 15% of our student population are English Learners and 20% are students with disabilities."
---
Michelle Manning's templates:
As you can see from the examples they each provided, they vary in design and content, depending on the grade level and unit of work.
Michelle told us that she sends teachers the student templates along with her simple instructions on how to remix the template into their class library, with assurance that she can help them with this when she gets to the class.
Both Michelle and Shanna go back to classrooms to teach these first curriculum-integrated lessons, often co-teaching the lesson with the classroom teacher.
The next stage varies in length by teacher, with the teacher taking more of a lead on future projects. Both coaches said they continue to be there to support and consult with teachers, but some teachers really take it on board and create loads of their own resources.
Michelle and Shanna both talked to me about the importance of collaboration amongst teachers, and sharing templates and success stories. The Instructional Technology team in Milwaukee have a Tech Tuesday email, in which Shanna regularly shares out snippets with teachers.
Michelle takes the approach of sharing a story and template with the specific year group she has supported, so that other teachers can benefit from the work she has done, booking her in for a lesson if needed. She'll often include a short video tutorial in this communication, which she shares via email and also in her Technology Integration Google Classroom (see below).
Both take to social media regularly to spotlight teacher and student success, and Michelle utilizes a Google Classroom for each year group.
Michelle told us that Book Creator has been transformative for her, her teachers and students. Having shifted into her role over the last couple of years, she struggled to find ways to get teachers to utilize her to improve the teaching and learning process. Just in the last few months, she has been booked 100 times to support teachers and students with Book Creator! She tells us that students cheer when she enters the classroom!
"I've been struggling to get into classrooms. Once I started sharing Book Creator, my schedule has been packed! I do Book Creator several times a day. It has been a game changer and completely opened classroom doors for me and I'm finally teaching classes, integrating curriculum, and being a tech coach and I owe it all to Book Creator! Completely turned my job around!!!"
New resource for Schools & Districts
Check out the Book Creator Toolkit - the perfect resource for instructional coaches and tech integrators who use Book Creator in their schools and districts.
Lainey joined the Book Creator team in 2020 as VP of Partnerships, before becoming CEO in 2023. A former educator with 15 years of sales and marketing experience, she enjoys mountain biking, dancing, reading and family time.