A short walkthrough of how this international teacher collaborated with schools worldwide to make an amazing printed book.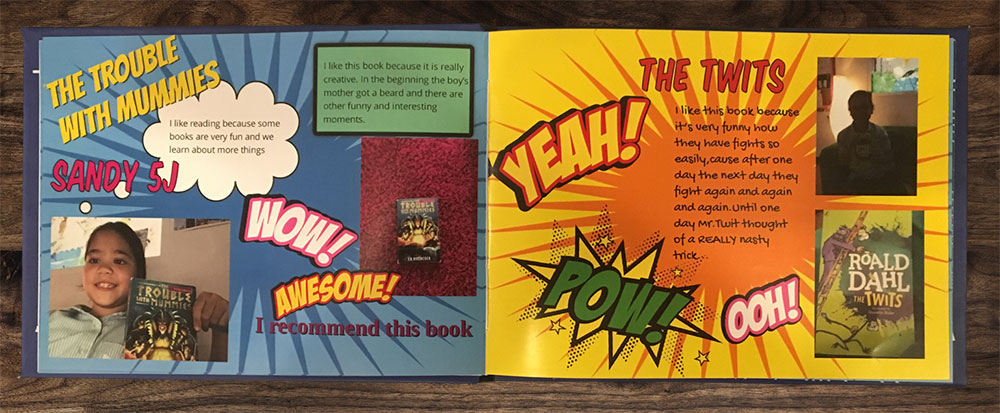 Before moving to work in Bangkok I worked in a 1:1 iPad school in Kuala Lumpur, Malaysia. It was a complete change from my previous school in the Seychelles where we had very limited technology!
I was very fortunate to be sent to a lot of fantastic professional development courses and I first came to learn about Book Creator from another Book Creator Ambassador, Jane Ross.
Learning about the power of publishing and how it can motivate students, I decided to publish my own children's story and then started looking at how I could use it to motivate my students and enhance their learning experience through the multimedia options that Book Creator offers.
'The Snake in My House' by Jose O'Donovan on Apple Books
Here are a couple of example books from my students:
Book Week collaborative project
Book Creator is always looking at ways to improve and this shows with how much they listen to teachers and the improvements they are always making. Having tested early on the collaborative features of Book Creator for Chrome, I immediately began to think about how I could use it with my students.
Book Week is a huge event at my current school in Bangkok with author visits from the UK, Book Week competitions, even a book themed cake design competition! We are also part of a big group of schools all over the world so I thought it would be exciting for the children to collaborate with each other and with other students in other parts of the world sharing their favourite books and love for reading!
The process
I set up a collaborative book in Book Creator for Chrome, created an example page and launched the activity with my students. They loved it! The comic features make it even more exciting and being able to look at the work their friends were doing was inspiring them to do their best.
How to collaborate in real-time in Book Creator
I shared the idea and a basic document with instructions to all staff in my school and did the same with the other staff who belong to our group of schools. A teacher from one of our sister schools in Switzerland contacted me and said she would love to collaborate. I explained that using the iPads the students would have to use the Google Chrome app and then shared the library code for them to be able to join our collaborative book. It's really simple!
I would suggest that you test everything out before hand. Set it all up and then pretend you are a student joining the book, make sure it all works and that you understand the process. Having a clear example page with the instructions is also really important so that the design and layout of the book is consistent. The published version of the book was great, so much so that I started thinking about how good it would be to actually print it into an actual book!
Printing
The printing process is remarkably simple. You export the book and select print from Book Creator for Chrome. Then you save the book as a PDF and the first step is completed.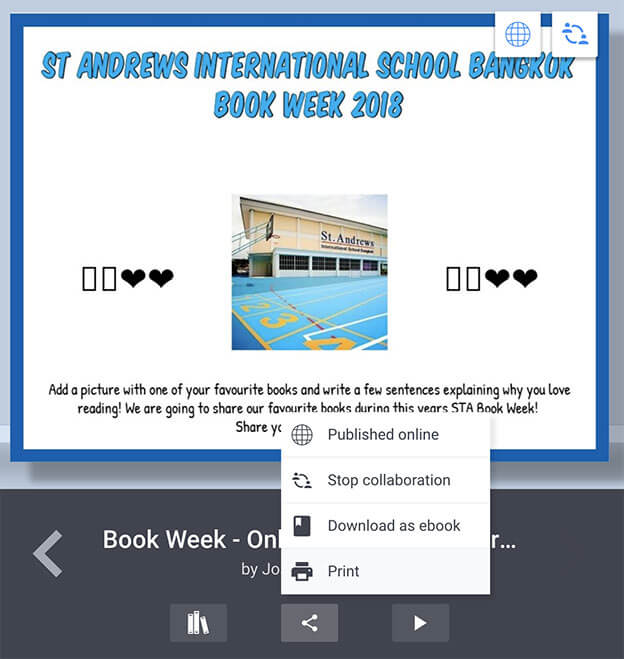 I then contacted my school's purchasing department and explained that I wanted to print the book, we discussed dimensions, paper quality, cover, etc. before they sent it off to an external printer that my school works with.
A week later I got a sample book and asked for some minor adjustments (centering the cover etc) and once it was approved a week later I had some copies. Check it out!
The children absolutely loved seeing their work come to life and we now have copies in our shared area and some classrooms as well as a copy for the school library. I plan on repeating the event next year, with even more schools taking part!
Primary School Teacher and Key stage 2 Technology Coordinator at ST Andrews International School Bangkok. International School teacher worked in Seychelles, Malaysia and currently in Thailand.