Who would have thought it was possible to get 6th graders engaged in poetry?! Here's a novel way to do it.
For almost 2 years, teachers at our school have been using the Book Creator app to develop collaborative books with their classes. We've used student artwork, photographs, and computer drawings combined with student narration to build our books.
We've created over a dozen books that have been uploaded to Dropbox and posted online so that friends and family can download them onto their iOS devices.
A project completed entirely on iPads
In May 2013 our computer lab was being used for testing, so I needed a 2 week project that could be done entirely on iPads by my 6th grade class. I knew the students had been creating a portfolio of poetry during the year and decided that we could easily use Book Creator to compile chapters of their poetry.
Students were asked to illustrate each poem using images, text, and audio. They were to use and cite copyright friendly images (sourced from morguefile.com) and to include at least one video. They needed to use a variety of apps to create the media for this project.
Some poems were written and recorded directly in the Book Creator app and illustrated with photos. However I wanted students to find additional ways to enrich their chapters with multimedia. We found that any app that could save to the camera roll could be easily inserted into Book Creator.
Students used the Phonto, LabelBox, Comic Life, Drawing Box, and PolyFrame apps to create images representing their poems. They created video versions of their poems using the FaceJack, PuppetPals, Tellagami, and 30Hands apps.
This was the ultimate version of "App Smashing" and students loved having the creative freedom to decide which apps could be combined and would effectively share their poetry.
Even though it was warm weather and nearing the end of the school year, students were totally engaged with this project. Yes, sixth graders! Poetry! It was amazing!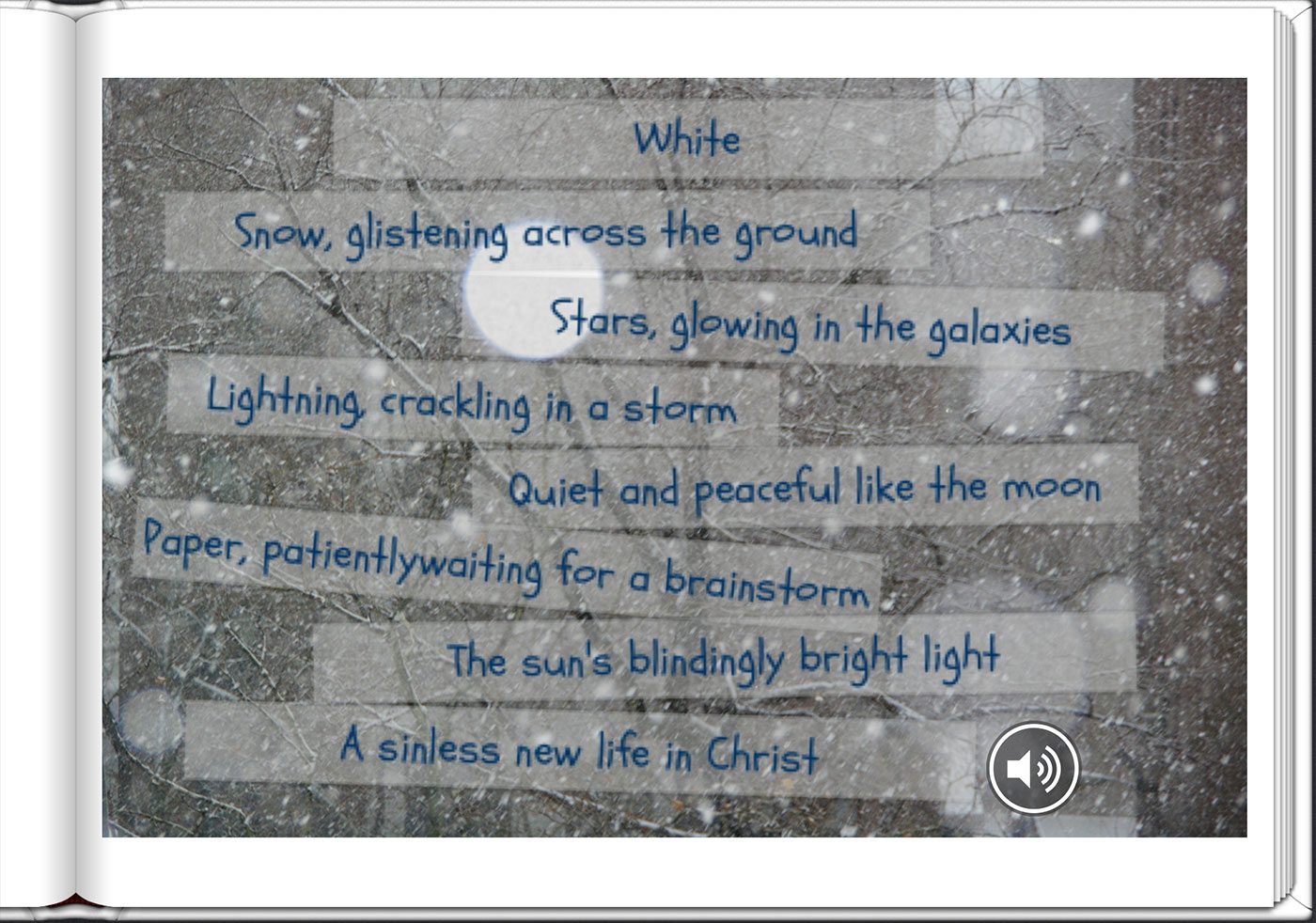 Publishing to the iBookstore
When students had completed their chapters, I uploaded their section from Book Creator into Dropbox. I then downloaded these chapters onto my iPad and used the merge feature in Book Creator to combine all the chapters into one anthology.
I decided to try to get their anthology published on the iTunes bookstore. I discovered that the Book Creator file uploaded easily to iTunes Producer, and within a few weeks our book was available for free download on the iBooks Store!
It was amazing for these sixth graders to realise that they now had a worldwide audience for their work. This truly was one of the best iPad projects that I have done with students.
Because Book Creator was so intuitive for the students to use, they were able to successfully use their creative skills to make a unique ebook richly filled with amazing multimedia - something that we could only have imagined doing a few years ago.
---
Karen Bosch is the K – 8 Technology Instructor at Southfield Christian School in Southfield, Michigan USA.
She is a 2007 Apple Distinguished Educator and Book Creator Ambassador. You can follow her classroom and professional activities at the Elementary Aptitudes and Middle Pages blogs.