Barrier games are a traditional teaching tool to assist language skills in early childhood. Here's some ideas for making these with Book Creator.
Although situated 12 hours from the city of Perth, in a remote location, our school has transitioned toward using 1:1 iPads and Google Classroom, with my classroom being the first to trial the usage. Since finding success in the 1:1 approach, students have now started the BYOD (Bring Your Own Device) program.
Having grown up in the ever-changing world of technology, I have been fascinated by how iPads can be used to excel student learning and have been taken aback by the diverse opportunities that Book Creator can offer, not only for students but for my own data collection and classroom management.
How I came to use Book Creator
I am so grateful that my Deputy Principal, Myrissa Dix, recommended the app during our transition toward using 1:1 iPads in our Year 1 class. I have explored Twitter to find different ideas from educators across the world, but often use the learning ideas from hard-copy activities or Pinterest and try to explore ways to redefine the learning into a digital format, allowing students to tap into higher-order thinking skills within each lesson and activity.
Initially, when teaching students about the apps, Book Creator was the first that they learned because of its easy navigation and understandable functions. After students mastered the basic functions, we started to 'App Smash' and combine work from various apps in Book Creator and vice-versa, to suit a diverse range of activities. The reason I use Book Creator to merge most learning activities is because of the ability to share easily with cloud storage, AirDrop between iPads and to collate work in a simple and aesthetic way.
Project examples for Book Creator
Here's some examples of how I've used Book Creator in my classroom.
Mathematics
Place Value games (also used alongside the app Number Pieces).
The Kagan Structure, Find Someone Who (for various concepts such as time, place value, shape, measurement).
Measurement activities.
Skip counting boards and verbal explanations of money (describing Australian coins).
Literacy
Spelling book (with screenshots of other apps such as iCard Sort).
Literacy Friends (students take home a toy and produce writing about their weekend, using an app of their choice or on written paper).
Writing plans (especially useful for diversifying to cater for different student levels, children who are emergent writers could record their voice and listen to the sentence before attempting to write, whereas higher ability students may have typed keywords).
Other
Learning journeys.
Collating my own data collection (in conjunction with the app, Numbers).
Learning portfolios.
Barrier Games.
How to use Book Creator to make Barrier Games
Barrier games allow students to pose questions and work on their communication in a safe environment with a partner. They especially benefit students who require speech therapy or those who speak English as another dialect, as they are partnered activities. Some popular barrier games include 'Guess Who' and 'Battleships'. Barrier games do not have to be stand-alone activities, specifically for improving communication, but can be integrated into many other learning experiences within the classroom.
Traditionally in a non-tech classroom, barrier games are often made using a lot of colour printing, laminating, cutting, and with other resources required. Time is allocated into preparing these and for teachers, it can be another resource added to the long list of items to be made.
Book Creator allows for easy and timely creation of barrier games, which can suit many learning experiences and be used or adjusted for more than one activity. The steps to making a barrier game through Book Creator may vary depending on what kind of learning you are doing in the classroom. However, below are two examples to get your creative juices flowing.
Example 1 – Sight Word Reading Practice Barrier Game
Teacher steps:
Teacher chooses an image (eg: beach background) and adds it to the page in Book Creator.
Teacher types the words that the student requires and drags them to the side of the page.
Teacher AirDrops, or alternatively uploads to Google Drive storage for students to download.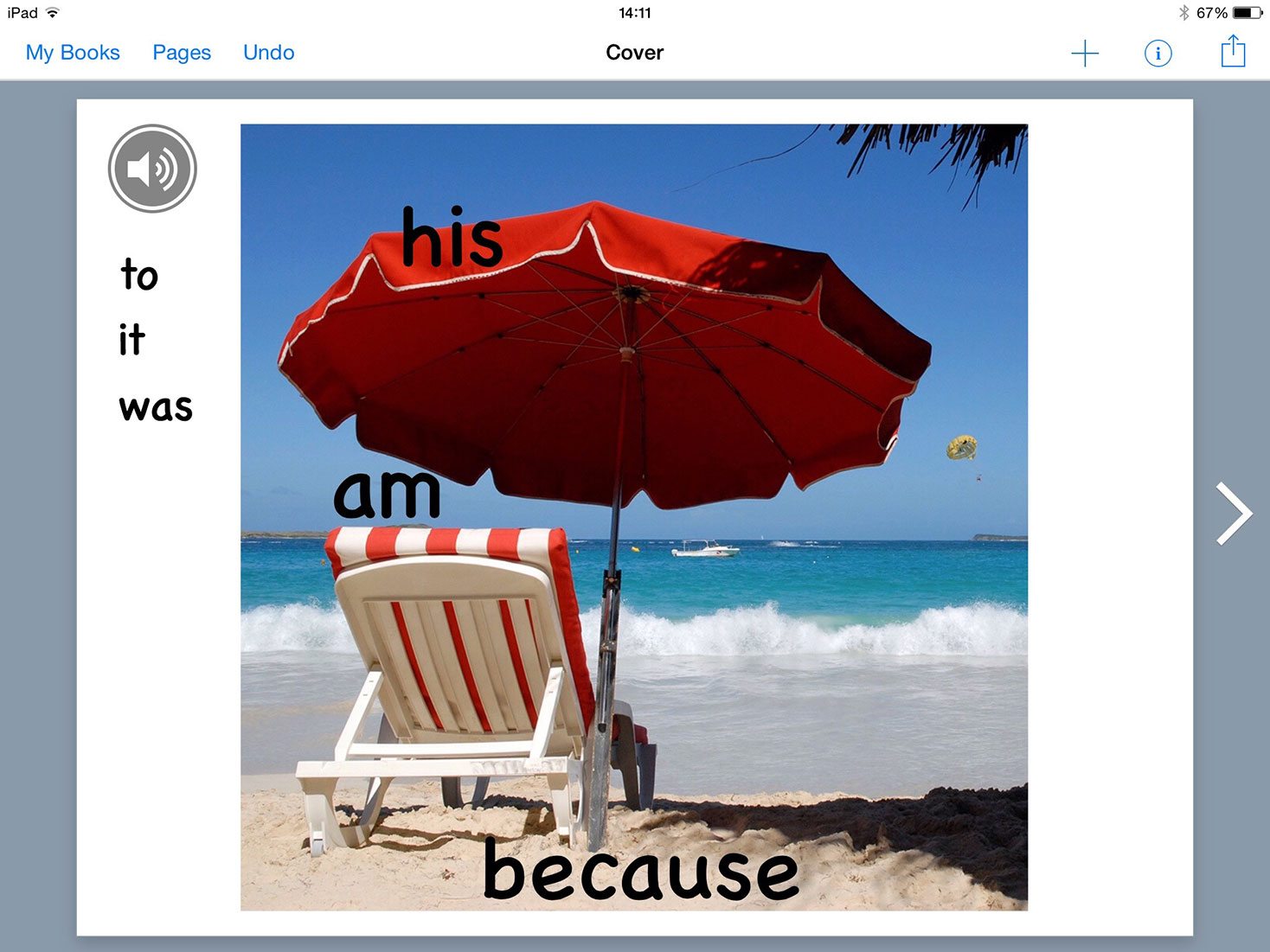 Student steps:
Students split into A and B.
Student A clicks and drags the words to a particular position on the background image.
Student A gives instructions on where to position the words and Student B attempts to correctly place the words to the appropriate spot on their own correlating image. Student B may ask questions to clarify the positioning of each word.
At the end of positioning all of the words, Student A turns their iPad around and shares the final product with Student B. They clarify positioning of words and give each other praise or feedback based on the instructions.
Example 2 – Place Value Barrier Game (Similar to Guess Who)
Teacher steps:
Create a table using the shape tool, or alternatively download and insert a grid image from the internet.
Type numbers appropriate to the ability level of the students into the squares. You may choose to make several game boards to suit the needs of your students in the classroom.
Teacher AirDrops, or alternatively uploads to Google Drive storage for students to download.
Student steps:
Students split into A and B. They click and drag one number from their game board into the 'My Number' section.
Student A, asks student B a question about their number (For example, 'Does your number have a 1 in the tens column?'). Partner B answers and based on their response, Student A crosses out the numbers which are not on Student A's board.
Student B repeats Step 2 and asks a question of Student A. The process then continues until the one of the students know which number their partner has.
At the end of the game, Students turn their iPad around and share the final product with each other. They clarify what each number reads and record their voice through the app.
Tips & tricks for Book Creator Barrier Games
To ensure students are accountable, they may record their voice with the instructions (also great if students need to revise what was said).
At the end of the barrier game, students can also record their feedback to one another.
The final Book Creator video file can be submitted to the teacher, for assessment of speech, language and communication skills.
Teachers can also record their voice with instructions of how to play the game, in case students need reminding.
Differentiate for different abilities by making boards with various levels of difficulty.
My future plans for using Book Creator
As students become more competent with navigating iPads and using the apps, I'd like them to begin exploring and choosing apps to create projects that are more creative and where they need to use their critical thinking skills. I am excited for more opportunities to use Book Creator to redefine the learning we are doing in the classroom and allow students the chance to apply their understanding and show higher-level thinking.
Some apps I hope to link Book Creator with are Explain Everything, Chatterpix and iMovie.
I also look forward to using Book Creator across the remainder of the year to collate and present my classroom data, which I can share with students in the classroom. Students could also use this data to create their own Visible Learning file in Book Creator to track the progress of their learning.
Hannah Dodds is a Year 1 Teacher at South Newman Primary School, located in the red earthed, Pilbara of Western Australia.
She is striving towards becoming a Google Educator and continues to look for opportunities to upskill herself by interacting in EdTech TMWA sessions, Professional Development and online learning.