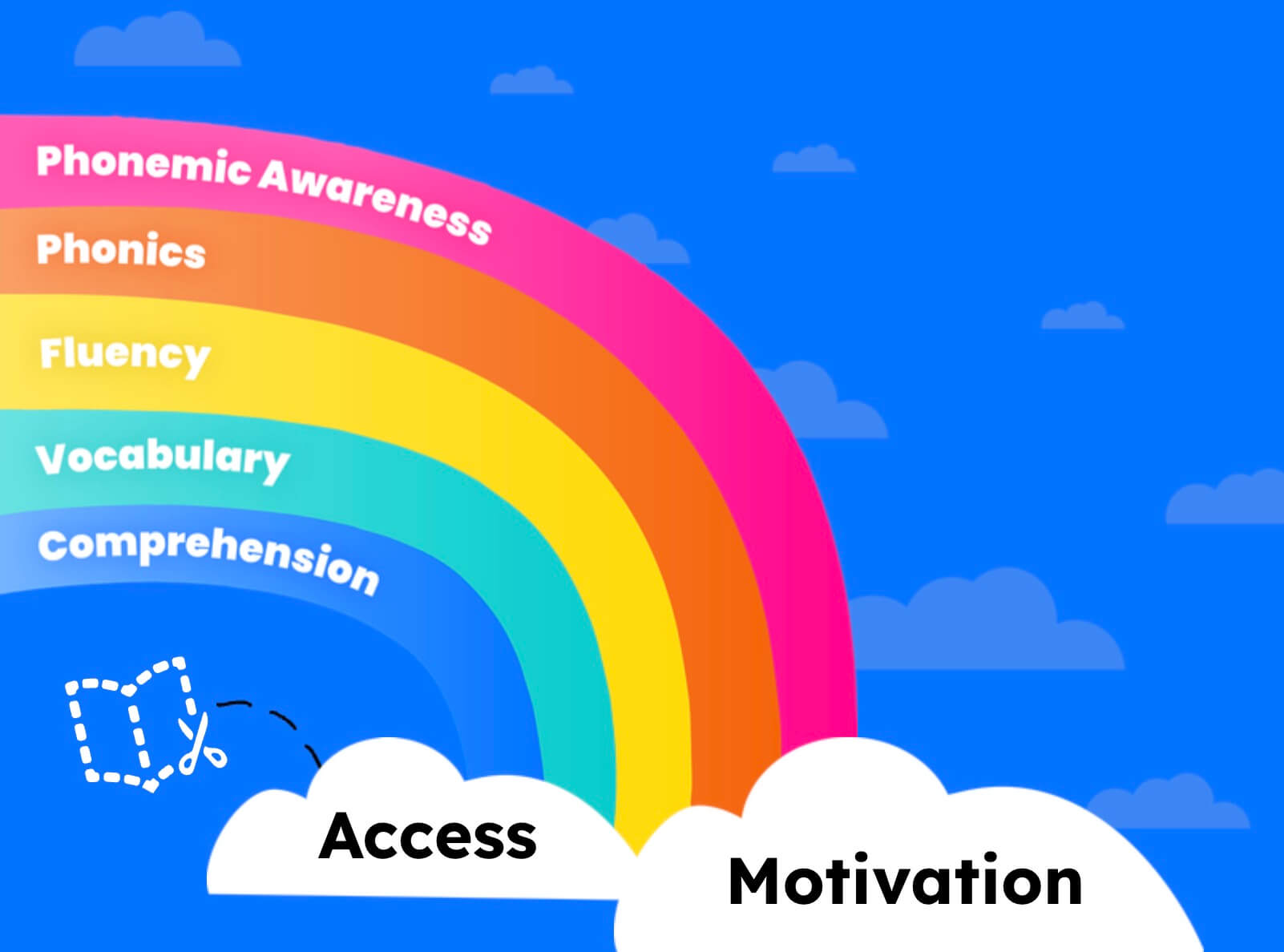 The 5 pillars of literacy are phonemic awareness, phonics, fluency, vocabulary and comprehension. These pillars really come alive when underpinned by the foundations of motivation and access - that's where Book Creator comes in.
For the past two decades, we've had a solid understanding of the elements that must be mastered in order to form the foundation of literacy, thanks to the National Reading Panel's in-depth analysis of what's known as the five pillars of literacy. Mastery of these necessary components are key indicators of future reading and writing success.
We've created a remixable template for each of the 5 pillars. These templates support educators in using technology to transform the learning experiences for students and propel them towards becoming proficient readers and writers. Discover how Book Creator revolutionizes research-based literacy education!
So you might be asking yourself, what exactly are the 5 Pillars and how can I teach them?
Pillar 1 - Phonemic Awareness
What is phonemic awareness? The ability to isolate, manipulate, and replicate the individual sounds that are heard within a spoken word. Simply put, phonemic awareness is teaching with your eyes closed because it's all about sounds and nothing to do with letters.
Teachers can easily unlock the power of phonemic awareness with Book Creator's multimedia capabilities. Help students refine their pronunciation and grasp individual sounds through engaging activities using the audio recording, images, or voice! Make learning phonemes an exciting hands-on experience that they can record and practice over and over again!
Pillar 2 - Phonics
Phonics is about identifying the letters that are associated with the sounds within words. Phonics includes letter combinations, spelling, phonics patterns, and syllabication. It's possibly the most complex of the 5 pillars because there are so many spelling patterns, without many common spelling "rules", but when practiced with technology, students shine!
The complex bridge between sounds and letters can be easily navigated with Book Creator. Integrate audio, images, and videos into digital books, making phonics engaging and accessible. Through the use of the text editor, 120 language translations, and more, teachers can watch students actively connect sounds to letters and embrace the beauty of language and spelling.
Pillar 3 - Fluency
How do we define fluency? The ability to orally read text with expression, accuracy, rhythm and appropriate rate, and smoothness. Students in elementary school must practice fluently reading every single day to support comprehension, decoding, and vocabulary. This is the pillar that I believe Book Creator was made for!
Enhance reading fluency with Book Creator's built-in read-aloud feature, and boost student confidence as they listen to their own narratives being read aloud. Witness fluency improvement through recording and playback and with the use of embedded PDFs, your fluency practice or progress monitoring can be saved for real-time reflection, goal setting, intervention, and growth!
Pillar 4 - Vocabulary
The words and meanings that students use each and every day, through conversation, formal and informal contexts, and academic situations and concepts. Paper vocabulary notebooks and cutting/gluing are a thing of the past — now students can create multimedia versions that can be saved and expanded each unit, month, or class!
Expand vocabulary effortlessly with Book Creator. Encourage students to create interactive glossaries within their digital books. Provide instant access to word meanings, synonyms, and pronunciations for enriched comprehension through the use of our graphic organizers and remixable templates.
Pillar 5 - Comprehension
If a student demonstrates comprehension they are simply showing the ability to understand the text read or listened to. Book Creator's interactive features will help you elevate comprehension, and give students voice and choice over how they demonstrate their understanding.
Create book summaries, quizzes, and discussions that foster critical thinking, or create a reading response journal to track your reading throughout the year. The platform's collaborative nature promotes deeper understanding through peer interaction and commenting.
Mastering the 5 pillars seems easy enough, however, achieving proficiency in foundational literacy is impossible without the essential elements of
motivation

and

access

.

What do we mean by motivation and access in Book Creator?
Engagement and sustained interest
Motivation plays a significant role in keeping students engaged with reading and learning. When students are motivated to read, they are more likely to dedicate time and effort to the task. They are also more likely to seek out reading materials independently, which helps reinforce their foundational reading skills. Student voice and student choice are key!!!
Motivation through creativity
Book Creator's user-friendly interface empowers students to unleash their creativity. With the ability to write, illustrate, and design their own digital books, learners are motivated to express themselves. This creative freedom sparks enthusiasm for reading and writing, making literacy an enjoyable journey rather than a chore or another worksheet.
Building confidence
Motivation can boost a student's self-confidence in their reading abilities. When students feel motivated and experience success in their reading efforts, they are more likely to tackle more challenging texts and persevere through difficulties, leading to greater proficiency in foundational reading skills. Hearing their own voices tell their own stories to an authentic audience is more confidence building than just reading to a teacher in a small group for one minute.
Diverse learning opportunities
Access to a wide range of reading materials allows students to explore different topics, genres, and text types. This diversity can help them build a deeper understanding of language and context, leading to improved comprehension and vocabulary development.
Book Creator offers access to a vast library of shared resources. Students can explore a wide range of books created by others around the world. This access to diverse content broadens their horizons and encourages them to read and learn about different topics and perspectives. We want students to see themselves as the protagonists of stories, and to get inspired by what other students their age have created!
Accessibility for all
One of the most remarkable features of Book Creator is its accessibility. Its tools cater to diverse learning needs. Enjoy text-to-speech capabilities, customizable fonts, speech recognition, screen reader support, and more to ensure every student can fully participate and that no one is left behind in their literacy journey.
Equity and inclusivity
Access to reading materials and resources is essential for ensuring that all students, regardless of their background, have an equal opportunity to develop foundational reading skills. Motivation is closely linked to students' belief in the value of their education, and when they have access to appropriate materials, they are more likely to feel valued and supported.
Case study: How to motivate students regardless of their learning needs
With Book Creator, literacy comes alive
When students are motivated to read and have access to a wide range of reading materials, they are more likely to develop positive associations with reading. These positive associations can carry over into their attitudes towards learning, encouraging a lifelong love of reading and learning.
These two factors work together to create a positive learning environment that empowers students to become proficient readers and writers. It's the 5 Pillars AND MORE and with Book Creator, literacy comes alive!
Randi Ahrndt is Book Creator's Head of Literacy Learning. With over 15 years experience in education as a Principal, Literacy Coach and Elementary Teacher, Randi brings a unique perspective to our team. She is a wife and boy mom x3, who loves reading, tacos and travel.