We're excited to share that the beta testing is now complete and we are ready for use in your classroom. A huge thank you to the 4000+ teachers who tried out the app this summer and provided their feedback. We've listened carefully and have added several great new features for you and your students!
Google Image Search
In Book Creator for Chrome, you can use Google Image Search to find the perfect photo for your project.
When you tap the + button and select Import, you can now search for images on Google. Rest assured that safe-search is enabled, and all the images have full permission to be used in your books. You can also disable the feature altogether in a library's settings if you prefer students to only use their own images.
Combine books in any layout
Perfect for classroom collaboration, why not get students to create a page individually, and when they're done, the teacher can combine them all into one class book. Click on the bookshelf icon beneath a book's cover and choose Combine Books to try it out!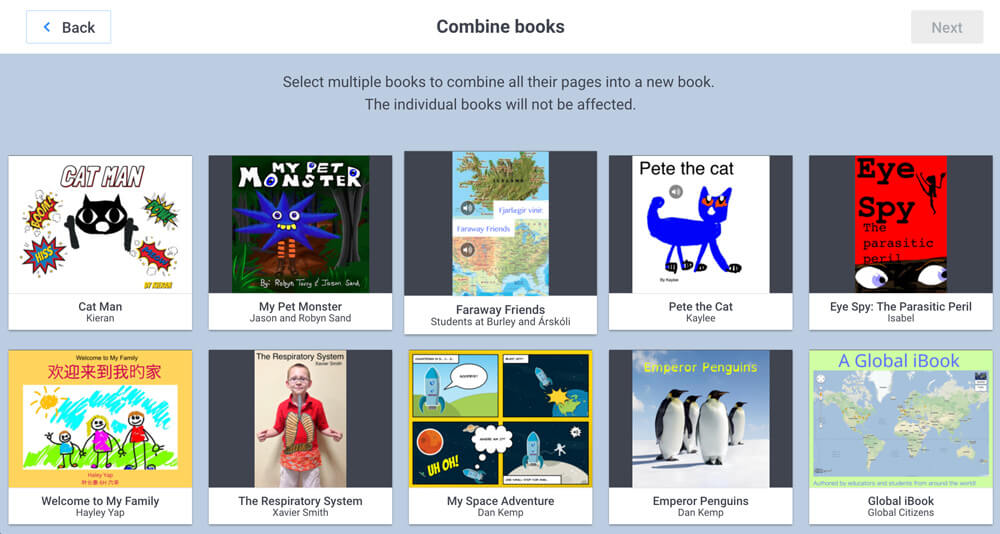 If you love this feature from Book Creator on the iPad, we have made the Chrome version even better. You can now combine multiple books in one click, and they can even be different shapes.
Create your class library
Login as a teacher, then create a library – you'll get an invite code so your students can join. It's as simple as that – a great way to organise and share your books.
Download ebooks
Want to store a book in Google Drive, or read in iBooks on an iPad, or import into Book Creator for iPad? Well now you can!
All new Getting Started tutorial
We hope Book Creator is super simple to use, but if you need some extra help you'll now see a tutorial when you first sign in. If you were a beta tester just click on your avatar and choose 'Reset Tutorial' to add it to your bookshelf.
Features
Here's a full list of features in Book Creator for Chrome:

50 hand-picked typefaces to choose from
Add images or take photos
Bring in photos from the web with Google Image Search
Drop in video or music, even record your voice
Use the pen tool to draw or annotate
Use shapes and arrows to explain your ideas
Portrait, square or landscape layouts
Comic templates – panels, stickers and speech bubbles
Publish your book online
Download and save the book as an ePub file
Combine books in any layout
Create your class library and invite students to join
---
And there's more to come…
We're working hard to add importing and printing of books, Google Classroom integration and the paid upgrades if you need them. Look out for an update soon.
Teachers start off with 40 books for free. You won't be able to purchase any more plans just yet (coming soon), but you can find out full details of the pricing at bookcreator.com/pricing.

---
"I've always told teachers that as attractive as free apps and services are, there are always some that are worth paying for. With paid apps you invariably get more features, less ads, better support, and can usually rely on those apps not to disappear overnight. For me, Book Creator fits that criteria perfectly. It's versatile, encourages creativity and is easy to learn, so I have no problem recommending it to others as an must-have app for any classroom device."Jonathan Wylie, Digital Learning Consultant