Have you heard of BookSnaps yet? This incredibly simple and original idea is transforming the way teachers and students interact with books.
What are #BookSnaps?
BookSnaps is an original idea I founded in August of 2016. Initially, I was searching for a way to use Snapchat for EDU-Awesomeness, and it worked. Later, I realized that many different apps would aid in providing access to this incredibly effective comprehension strategy for students. A BookSnap is simply a digital, visual representation used to annotate and share reflections of any excerpt of a book or text.
#BookSnaps are now implemented in nine countries from kindergarten to graduate students. There is truly no age limit, nor is there a content restriction.
In fact, #BookSnaps has many cousins– #mathsnaps, #labsnaps, #GratitudeSnaps, etc! There is even a teacher in Oregon, Tisha Richmond, who uses #foodsnaps with her culinary students–the list is endless.
Educators and students are finding ways to create a digital visual representation of their learning with their content and sharing it out to an authentic audience.
To me, the best part of #BookSnaps is the unique REALness the strategy reveals about the creator. Therefore, #BookSnaps need not be ruled by a rubric to produce what we want, but rather allow the students to draw connections based on what's meaningful and relevant to them.
[clickToTweet tweet="'#BookSnaps allow students to draw meaningful connections to the text.' – @TaraMartinEDU" quote="'#BookSnaps allow students to draw meaningful connections to the text.' – @TaraMartinEDU"]
A few reasons to create #BookSnaps
Here's just a few of the (many) reasons you might want to create a #BookSnap with your students:
It allows the reader to connect an idea or thought by creating a digital visual representation. The visual representation solidifies the text content within the mind and signals the brain to retrieve the idea from memory.
Diagram the rise, fall, and climax of the plot.
Highlight figurative language and imagery.
Notate character conflict and internal struggles.
To personally connect to the text (this is my favorite!)
Point out the main idea or a supporting argument
It has its own hashtag: #BookSnaps on Twitter!
It's EASY! Just read, snap, reflect, add stickers, share, and repeat.
Now, I'll turn it over to April Padalino, who guest-hosted on my YouTube Channel, R.E.A.L Talk with Tara Martin, to explain how her students are using #BookSnaps with the Book Creator app.
You can watch the video and/or then read her explanation below.
Why use Book Creator for making #BookSnaps?
The idea to use Book Creator for making #BookSnaps dawned on me after my students finished reading How to Make a Comic Book, by Micheal Sanders. The kids were enjoying the features the Book Creator app provides especially through the comic layouts. They found it to be a user friendly tool.
I really liked how the comic panels turned out which lead me to think about the kids creating #BookSnaps and being able to collect them all in one place. Students reading longer books were actually using the #BookSnaps like notes about the books. I do the same thing with my professional development books, so I have all my notes in one place.
What I learned from using Book Creator to make #BookSnaps
The idea of using #BookSnaps was to provide a creative and engaging way for all students to be able to express ideas and show understanding. Here are some things I learned along the way:
My English language learners can show their understanding through the creation of a visual representation of what they are thinking.
It was a way to add micro-writing about reading that is fun and motivating.
#BookSnaps became a springboard for conversations and conferencing about thinking, writing, and spelling.
By creating a visual, students remembered more about the books.
Teachers can guide students in learning to use Book Creator by asking questions. Teacher feedback should not tell students what to do, but allow / empower students to reflect on their work.
Students need TIME to be creative and learn to use this tool to reflect their thinking.
How to make #BookSnaps
Read, think, & be creative
Take a picture of the passage that you connect with in some way.
Highlight, underline, or box the part of the text with which you are connecting.
Create a visual representation that shares your thinking.
Use emojis, stickers, speech bubbles, draw pictures, etc.
Include the title and author or book cover to give credit.
Here are some example #BookSnaps from my blog.
Other ways we use Book Creator in the classroom
At our school teachers and students use Book Creator in a variety of ways. Students created graphic novels to represent understanding of books and stories of their own such as fractured fairy tales. They also created informational texts to share what they learned during genius hour.
Teachers created books to help English language learners. They used the books to teach new words and phrases. The Read Mode feature allowed them to hear the words that are represented by text and pictures.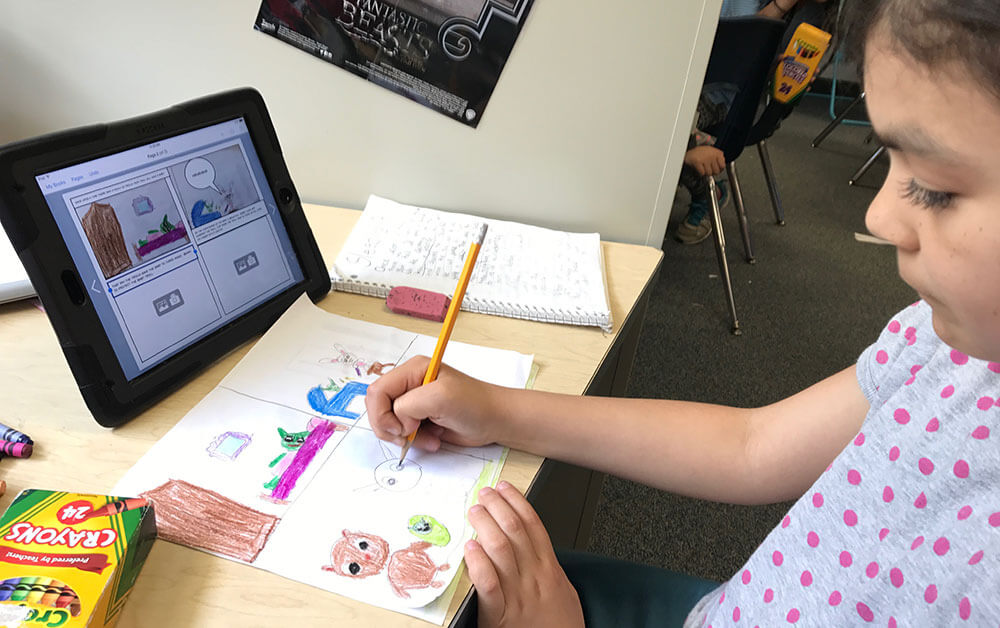 Book Creator allows students the opportunity to integrate multiple apps to create a final project. One student created a #BookSnap using Book Creator, then she inserted it as a background for another app.
Other students create in other apps and then insert them into Book Creator. This versatility allows students and teachers the opportunity to use a lot of creativity to share what they are teaching, learning, and understanding.
The new Publishing online feature allows students an easy way to share their work with their parents. Above, a second grade student is sharing her work with her mother during our school's Showcase of Learning event.
Tara Martin is an enthusiastic educator, speaker, and author who thrives on change and refuses to settle for the status quo. Martin's mission is to invigorate administrators, teachers, and staff members to apply instructional and leadership practices that foster creativity and empower ALL 21st-century learners (adults and students) to lead with passion.
Check out her latest hashtag #BookSnaps on Twitter.