We've teamed up with Adobe Creative Cloud Express (formerly Adobe Spark) to make it simple to share your Video, Page and Post creations to Book Creator. Our latest update also includes Clever integration and a much-requested feature.
You may remember we announced a big update in August allowing for content from other websites/apps to be embedded into Book Creator. Since then, we've already seen over 200,000 videos, images, maps, documents and other interactive content appsmashed into Book Creator!
Adobe Creative Cloud Express (formerly Adobe Spark) is a popular creativity app that allows you to create graphics, web pages and video stories in minutes, using their web app or iOS apps. Their team reached out to us after they saw our embedding feature and we agreed to make the experience of embedding Adobe Spark content even better in Book Creator.
 Learn more about Creative Cloud Express
So now, when you embed an Adobe Video into Book Creator, it adds the full video thumbnail with a play button. If you add a Web Page, it will automatically add the Adobe icon. And Post creations are added straight to the page as an image. Seamless!
Embedding Adobe Creative Cloud Express into Book Creator
---
See the example book we made with embedded content below. Click on the video or web page items and they will open up directly in the book.
---
Want to get started yourself? Read how to embed Adobe Spark content into:
But wait, there's more...
Students can now publish their own books
One of the things we were frequently asked was whether students could publish their own books in Book Creator for Chrome. Initially, we didn't allow this because we were worried about students accidentally sharing private information online. We set it so only the teacher could publish books.
However, a lot of teachers have said that this creates unnecessary extra work for themselves, particularly when they have older students who can be trusted to publish their own books.
So we've added a toggle to the library settings so you can now choose whether or not students can publish their own books online.
Use Book Creator with Clever
Book Creator now supports Clever's Single sign-on (SSO). With this integration (available for any school on a paid plan) teachers and students can seamlessly sign into Book Creator without needing to create an account.
As a district admin you can add Book Creator directly from your Clever Dashboard and make it available to all your teachers.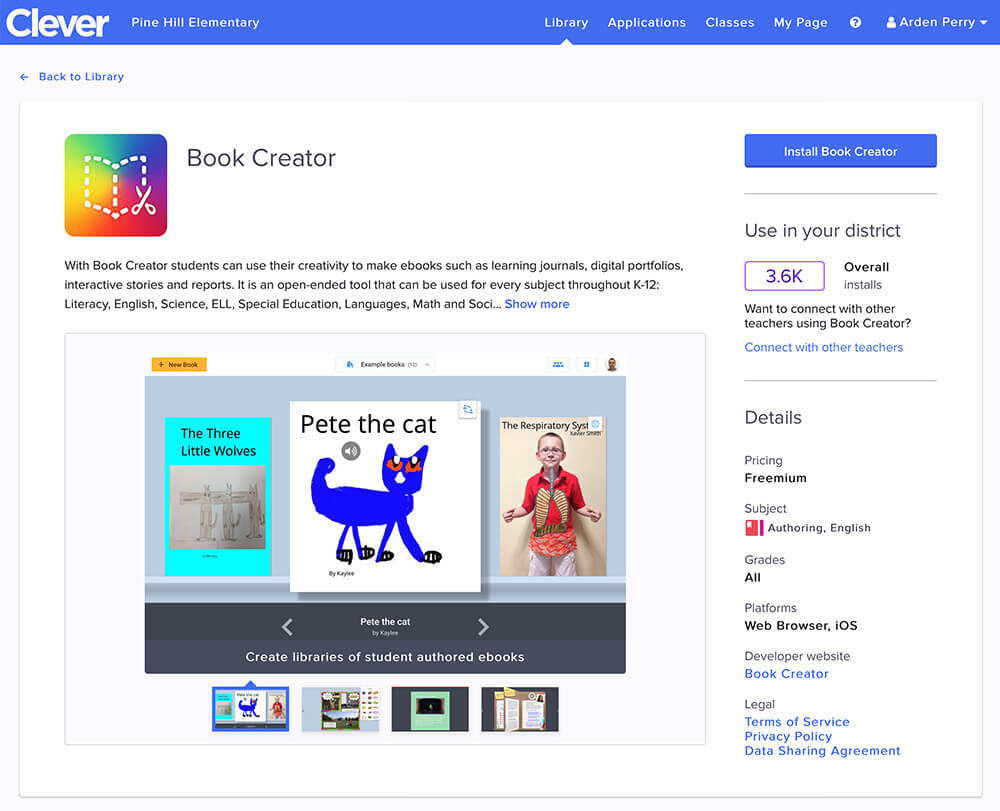 Full details of how the Clever integration works can be found in our Help Center.

Dan Kemp is the Marketing Director and has been working here since 2013. One of Dan's favourite jobs is hearing the stories of how Book Creator is used to bring joy to classrooms all over the world, and he happily retells these stories on these pages!