We believe in equality in education, which is why we've made accessibility the focus of our latest update.
At Book Creator, our mission has always been to bring digital publishing to all, and allow teachers the means to differentiate lessons for all types of learners. We've spent the last few months diligently working through a list of major (and minor) accessibility updates to make Book Creator easier to use for everyone. For those who understand and prioritise accessibility in their teaching, this is our most important update yet.
Explore the Accessibility hub in our knowledge base
We've made multiple tweaks to our iPad app over the years to make it more accessible. These updates all apply to the web version of Book Creator only.
At a glance:
Let's take a look under the hood.
Dictation now supports 120 languages
We've had speech-to-text in Book Creator since November 2017, but now we've supercharged it so you can dictate your text in 120 different languages. すごい
Speech to text in Book Creator
Something that we've been asked about many times by teachers is the ability to make the text bigger when editing in the text box. This is now possible using the magnifying glass in the bottom left.
Add captions to video
This is really cool. You can now auto-generate captions for the videos you add to Book Creator. This works for videos you take with the camera or uploaded videos. Generate the captions and then you can manually edit them as you need to (although it's amazing how accurate it is!).
This will be really beneficial for deaf or hard of hearing students, but also for language learners - you can choose from 120 languages for the captions.
When you've added captions, they will automatically play over the top of the video when you're in Read mode in Book Creator.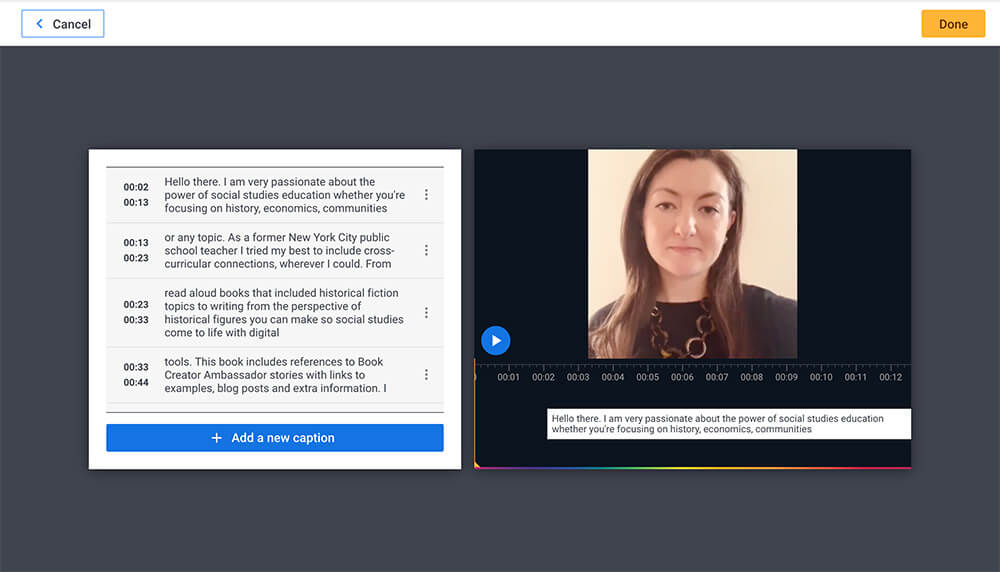 Add a transcript to audio recordings
Equally cool is the ability to now add transcripts to your audio hotspots. This brings a totally new dimension to a much-loved feature in Book Creator.
When you record your audio hotspots, you can have them automatically generate a transcript which can be read by clicking on the little icon on top of the hotspot. Again - you can choose from 120 languages for your transcript - bringing this feature to students and teachers around the world.
Navigate using your keyboard
Book Creator now supports full navigation with your keyboard.
This is for:
People who are blind (who cannot use a device such as a mouse that requires eye-hand coordination).
People with low vision (who may have trouble finding or tracking a pointer indicator on screen).
Some people with hand tremors find using a mouse very difficult and therefore usually use a keyboard.
And, what's more (for those of you old enough to remember), using keyboard navigation with the pen tool totally feels like playing with an Etch-a-Sketch!
Just use the Tab key to navigate through menu items, and press Enter/Return to select the item. To draw like the diagram above, you use the arrow keys and hold down space to draw (and press Shift at the same time for broader strokes).
How to use keyboard navigation
Improved color contrast
We've made some tweaks to the way the app displays certain content - fonts, images etc. to make it easier to read for everyone. Take a look below - the screen on the right is what it looked like before (click on the image to enlarge it).
Improved screen reader support
For those students/teachers who rely on screen readers to interact with the web, we've improved our support and tested against the Chromebook's ChromeVox, Windows' Narrator, Apple's VoiceOver and the NVDA screenreader.
For those of you who know accessibility, we are now WCAG AA compliant, and have a fully completed VPAT (Voluntary Product Accessibility Template), which is a document that allows us to provide a comprehensive analysis of our conformance to accessibility standards.
What does all this mean for education?
Wendy Torres is the Senior Instructional Technologist at Coppin State University, and an accessibility expert. She said:
These are great additions for accessibility and inclusion. What is great is that everyone will benefit from it not just those with disabilities. Thank you for doing right by your consumers and by working so hard to make sure everyone is included. It matters.
Equality. Inclusion. Differentiation. These are important considerations as technology becomes more and more prevalent in education, and we want to remain right at the forefront of accessibility in education.
The ability to offer differentiation for students is a key reason why Book Creator is so popular. Teachers have a toolset to create materials for students of all levels to interact with. Better yet, we're making these tools available to students of varying abilities and special needs, to create their own work and experience the accomplishment of becoming a published author. These accessibility updates bring Book Creator to more students, and make the tools even easier to use than they were before.
Check out this book from Rosey McQuillan - created in Book Creator. You can see the audio and video captions in action in this book, plus numerous ideas for differentiating your lessons with Book Creator.

Dan Kemp is the Marketing Director and has been working here since 2013. One of Dan's favourite jobs is hearing the stories of how Book Creator is used to bring joy to classrooms all over the world, and he happily retells these stories on these pages!